Jack Ryan: Shadow Recruit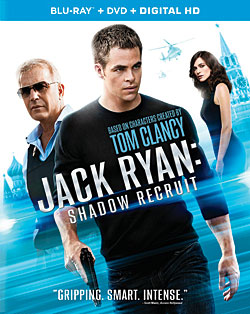 The picture has good contrast but is kept moodily gloomy with muted tones except for the occasional block of rich color. There are deep blacks and bright whites. Skin is natural, with a wide range of tones. Due to the dimness, the image is slightly soft, but there's plentiful detail, with texture to fabrics and surfaces. Things look particularly good in better-lit sequences. Faces are sharp and individual stubble, pores, and lines all over Kevin Costner's face become visible.
In the clear and full 7.1 soundtrack, surrounds and rears are highly engaged right from the opening music, with instruments well separated and different elements of the orchestral score in each channel. All channels are also used constantly for atmospherics—maybe more than any film I've come across. Vehicular drive-bys and airplane flyovers are accurately placed and smoothly panned.
In a competent commentary, director Kenneth Branagh and producer Lorenzo di Bonaventura entertainingly explain the thinking behind each scene and how it's shot. Five minutes of deleted scenes add little. Featurettes include two in which talking heads are intercut with clips, one covering the character of Ryan with excerpts of all the actors who've played him and a gushy one on Branagh as director and actor. Another featurette on the stunts shows a lot of behind-the camera footage and is therefore more interesting.
Blu-Ray
Studio: Paramount, 2014
Aspect Ratio: 2.40:1
Audio Format: DTS-HD Master Audio 7.1
Length: 106 mins.
MPAA Rating: PG-13
Director: Kenneth Branagh
Starring: Chris Pine, Keira Knightley, Kenneth Branagh
Jack Ryan's creator, writer Tom Clancy, had the hero of his first book, The Hunt for Red October, trying to outwit the Soviets during the Cold War. Shadow Recruit presents his back story, beginning with Jack still in his college years. Yet, surprisingly, it's the 9/11 attacks that motivate him to take his analytical skills to Afghanistan to help fight the war. Nevertheless, it works. And instead of staying behind a desk, Jack's soon out in a helicopter with soldiers on a mission, getting shot down, badly injuring his spine, but saving two of his men. So it's no surprise that, after heroically forcing himself to learn to walk again, he's recruited by The Company. And we're all caught up. Thankfully, in the tradition of Clancy's books, it's not just Jack's mind that gets a workout trying to uncover a Russian plot to crash the U.S. economy, but also his action-hero abilities—allowing scenes of methodical investigation as well as plentiful home theater adventure.