Unstoppable—20th Century Fox
Video: 4.5/5
Audio: 4.5/5
Extras: 3/5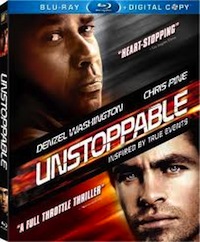 A runaway train, transporting deadly, toxic chemicals, is barreling down on Scranton, Pennsylvania, and only two men can stop it: a veteran engineer and a young conductor. Thousands of lives hang in the balance as these ordinary heroes attempt to chase down one million tons of hurtling steel and prevent an epic disaster.
Tony Scott typically delivers in the audio/video delivery and this is no exception. Thankfully this one is stylized to over the top levels and manages to provide a pretty natural color palette, a first for Tony Scott I think. Detail and clarity are both superb and the Blu-ray provides a subtle film grain that enhances fine detail even more. Contrast is strong with great black levels and plenty of onscreen punch. The DTS-HD Master Audio mix is a powerhouse with some REALLY low bass levels. They definitely took full advantage of the rail yard for their sound stage and the engines provide some pretty extreme infrasonics to the mix. Surrounds are used aggressively to add to the intensity of the film and dynamic range is spectacular. A definite show-off disc!
Fox forgoes the DVD copy of the film and instead offers a digital copy for portable devices. You also get a feature commentary with Tony Scott, some production features and some trailers.
Tony Scott always delivers a pretty solid thrill ride and this is definitely what I expect from the filmmaker. The movie gets going quickly and really never lets up. Fox delivers an outstanding presentation of it all making it an easy recommendation for pure popcorn fun.
LATEST VIDEO