Under the Tuscan Sun
Raoul Bova, Lindsay Duncan, Diane Lane, Sandra Oh, Vincent Riotta. Directed by Audrey Wells. Aspect ratio: 1.85:1 (anamorphic). Dolby Digital 5.1 (English). 102 minutes. 2003. Buena Vista 76122. PG-13. $29.99.
Picture ***
Sound ***
Film **1/2
Loosely based on the book of the same name by Frances Mayes, Under the Tuscan Sun tells the story of Mayes (Diane Lane), a San Francisco author who discovers her husband is cheating on her. A friend (Sandra Oh) gives Mayes her unused ticket for a gay tour of Italy, so she can get away, but won't have to worry about unsolicited advances from the opposite sex while she recovers from her painfully failed marriage. While she's in Italy, several fortuitous signs point her in the direction of a villa in Tuscany, which she buys on impulse.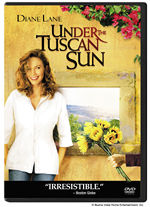 Mayes tries to make a new life in Tuscany, while simultaneously remodeling a run-down villa. The symbolism isn't hard to catch. The house's reconstruction parallels her own interior reconstruction, and when, at the film's end, all the villa's shutters have been fixed, and that gosh-darn faucet finally springs into action, it's clear Mayes has finally found the happiness she's been seeking since the film's beginning.
Under the Tuscan Sun is somewhat predictable. When Mayes finally finds an Italian Adonis who proves to her that "she's still got it," we realize, of course, that she's not the only one whose been spending the night at his place. Colorful locals pepper her social landscape including a blonde bon vivant (Lindsay Duncan) who dresses like Sandra Milo in Fellini's 8 1/2.
Diane Lane, who has the marketable talent of having a face very capable of expressing good-naturedness, gives a capable perfor-mance, but often overdoes her sense of amusement with a self-consciously cute laugh. She was better directed in Unfaithful.
Despite its shortcomings, however, Under the Tuscan Sun is good for a couple hours of escapism, and the glorious countryside of Tuscany lends itself well to a breathtaking visual presentation. The flag-throwing scene in the middle of the film is especially nice, as the warm Tuscan sunshine blankets the scenery and the vibrant flags dance against the background of a blue sky.
The Dolby Digital 5.1 soundtracks is very even, and occasionally bursts out into some good surround action, such as in the thunderstorm scene near the beginning of the film.
Features are good for this film, with commentary by director Audrey Wells, deleted scenes, and a making-of featurette entitled Tuscany 101. In general, I'd say this one's a renter, but don't spend your $30 to add it to your library. You'll surely watch it only once.—KR
LATEST VIDEO