True Grit (2011)—Paramount Pictures
Video: 4.5/5
Audio: 4.5/5
Extras: 3.5/5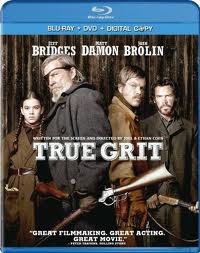 "True Grit" is a powerful story of vengeance and valor set in an unforgiving and unpredictable frontier where justice is simple and mercy is rare. Mattie Ross, is determined to avenge her father's blood by capturing Tom Chaney, the man who shot and killed him for two pieces of gold. Just fourteen, she enlists the help of Rooster Cogburn, a one-eyed, trigger-happy U.S. Marshall with an affinity for drinking and hardened Texas Ranger LaBoeuf to track the fleeing Chaney. Despite their differences, their ruthless determination leads them on a perilous adventure that can only have one outcome: retribution.
True Grit is a great looking Blu-ray disc. I had the chance to see a digital presentation of this film during its theatrical run and I don't even think it looked as good as this presentation. The cinematography of the film is definitely the highlight with striking frames and gorgeous locales. The film has a very rich contrasty look with inky blacks and exceptional shadow detail. Dimensionality is strong and fine detail is even stronger. While I don't think it is quite as tack sharp as the Coen's last film, A Serious Man, it still delivers striking fine object detail, especially in close ups. Colors are a tad muted and fit perfectly with the look of the film. The DTS-HD Master Audio mix is very airy with great surround presence. Low bass is a bit lacking, but this isn't a film where I'd expect much in that area anyways. Dynamics are quite convincing in the gun fights though. Dialogue is balanced perfectly within the mix and I was impressed with the overall sense of soundstage.
Paramount provides a solid extras package complete with the DVD of the film and a digital copy for portable devices. I wish the studios would make this standard fare for all new release titles, similar to what Warner is doing with their day and date releases. Supplements include lots of behind the scenes stuff for the production including locales, props and wardrobe. You also get a look at the young actress that delivers a nearly film stealing performance.
Upon second viewing I enjoyed this film more than I did in the theater. The characters are great, but the performances are worth the price of admission alone. While I don't think I would put it on my list of all time great westerns, it is still a great addition to the genre, which doesn't get much love nowadays. Paramount has delivered a sensational presentation for the film and a great extras package making this an easy recommendation.
LATEST VIDEO