True Blood Season 3—HBO
Video: 4/5
Audio: 4.5/5
Extras: 3.5/5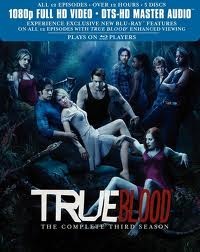 The Maenadian reign of terror may be over, but Sookie Stackhouse and the townspeople of Bon Temps face a new calamity that makes the bacchanalian evils of Maryanne Forrester seem tame by comparison. In Season 3, Sookie desperately tries to locate her fiancee, ending up in a netherworld of human and undead interlopers, among them the powerful Vampire King of Mississippi, Russell Edgington.
HBO has been doing a tremendous job with the Blu-ray releases of True Blood and this season is no exception. The show does have a rather dark and dreary look, but the HD transfer really delivers in terms of depth and detail. Dimensionality is strong throughout and contrast levels never falter. Fine film grain is evident throughout and adds to the vintage look of the production without being intrusive. Fine object detail is excellent though not quite as razor sharp as some TV productions shot with HD cameras. The DTS-HD Master Audio mix is even more of a highlight though with great dynamic range and plenty of rich and moody atmosphere. This show does a compelling job with its sound design and this Blu-ray never disappoints. Surround nuance is there in spades and the low end extension can be pretty impressive at times. Dialogue never sounds drowned out and the imaging in all channels is nearly flawless.
Extras are good but at times a bit too promo'ish. You get some good audio commentaries littered throughout and even a picture-in-picture feature with some episodes that expand on the production and story. All of the HBO "post mordems" from the season are included and shed light on the production with interviews and on-set footage. You also get interviews, character bios and some interactive features that provide more insight into the different characters and creatures of the show.
Season Three was a bit of a tossup for me. While the show is still quite engaging, there are times when it got to be a bit silly and unfocused. I always feel like they have the bones of something fantastic but the execution always comes up a bit short. Still, it's a fun ride and if you've enjoyed the seasons before it, this is a must see. HBO has done a fantastic job with the presentation making this an easy recommendation.
LATEST VIDEO