There's Something More About Mary
Ben Stiller, Cameron Diaz, Matt Dillon, Chris Elliot, Lee Evans, Lin Shaye, W. Earl Brown, Markie Post, Jeffrey Tambor, Keith David, Brett Favre, Jonathan Richman. Directed by Bobby and Peter Farrelly. Aspect ratio: 1.85:1 (anamorphic). Dolby Digital 5.1. 119 minutes. 1998. 20th Century Fox 37985. R. $21.99.


Picture ***


Sound **


Film***


By now, most people have caught on to the marketing games studios play with their DVD releases. It's the same game record labels perfected years ago: release a product, wait a few years, then reissue it with new songs or, in the case of DVDs, "extras." If a movie is even mildly successful, you can bet that, a year or two after its initial release on DVD, a new, improved Special Deluxe Limited Collector's Edition multidisc repackaging of it will appear, the studio hoping to see the very same fans who bought the original release popping their wallets open for the new one.
There's Something About Mary was wildly, not mildly, successful, so it was just a matter of time before 20th Century Fox redelivered Ben Stiller's zipped package and the rest of this gross-out romance. Disc 2 of this two-DVD set is crammed with extras, some of which are mere filler, and a few of which are actually fun or informative.
The only notable extra on the original DVD release of Mary was the directors' somewhat raunchy commentary track (hard to believe that the Farrelly brothers aren't epitomes of decorum). That original commentary is included here with, oddly enough, occasional bits of new commentary. That's right—commentary on commentary. It might be a first in the short history of DVDs.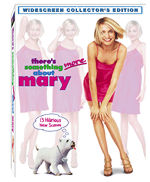 The best of the many new extras is Getting Behind Mary, a 43-minute behind-the-scenes look at the making of 1998's third-biggest box-office hit. Unlike many of these videotaped glimpses behind cameras, in this one no one explains the obvious to us in a voice-over. We're simply allowed to watch as the Farrellys and cast work and rework scenes, giving us a sense of the way the brothers put movies together. Actors and directors banter, laughing and banging out changes in dialogue. They make refinements to the acting and directing of scenes, each side occasionally donning the other side's hat.


Also included are: a ho-hum edition of AMC's Backstage devoted to the movie; Around the World with Mary, which effectively defines filler—it's nothing more than a single scene dubbed in a variety of languages; Exposing Themselves, a series of innocuous interviews with the cast; a half-hour Comedy Central program, Reel Comedy, that features a few funny moments between host Harland Williams (who has an uncredited role as the mass murderer in Mary) and other members of the cast, as well as the Farrellys.


A little gem of an extra is the clip of Ben Stiller's acceptance of the Best Fight Award from MTV, for his duel with Puffy the dog. For the occasion, Stiller created a clever little film reminiscent of the stuff he used to do for Saturday Night Live years ago, this time spoofing Industrial Light & Magic, alleged makers of the allegedly CGI Puffy.


If you're convinced that there's really something about There's Something About Mary, you won't be happy till you've seen all of these extras, as well as the music-video clips, Behind the Zipper (a mockumentary on the scene), the "Buttercup" karaoke bit, Puffy, Boobs & Balls (a short bit of silliness about special effects), outtakes, and all 13 TV spots for the film. If you're one of those people, nothing I could write would stop you from getting this set to sit next to your copy of the original DVD. So lay down your 20 bucks and enjoy. For the rest of you, a caution: Only a few of these extras are worth watching, and none of 'em is worth another double-sawbuck for a second copy of the movie.—MM