The Walking Dead – The Complete First Season—AMC/Anchor Bay
Video: 3.5/5
Audio: 4/5
Extras: 3.5/5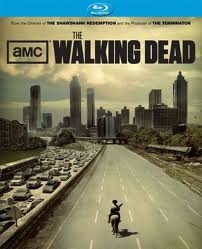 After waking from a coma in an abandoned hospital, police officer Rick Grimes finds the world he knew gone - ravaged by a zombie epidemic of apocalyptic proportions. Nearby, on the outskirts of Atlanta, a small encampment struggles to survive as 'the dead' stalk them at every turn. Can Rick and the others hold onto their humanity as they fight to live in this terrifying new world? And, amidst dire conditions and personal rivalries, will they ultimately survive one another?
I love the way the production design was handled in this series. Rather than looking all modern and slick, the producers decided to go with more of an aged look. Film grain is readily apparent and detail is slightly held back. The show lacks the polish of what you typically see on TV today and looks more like the film's of the late 70's, which is perfect for the subject matter. The soundtrack is presented in Dolby TrueHD 5.1 and the mix gets the job done. The surrounds are used pretty well in the more exciting moments and the show's score actually adds quite a bit of body to the mix. Dialogue is natural enough but dynamic range isn't overwhelming.
Lots of insight into the production can be found in the supplements. There are features on lots of the aspects of the show's production including makeup, casting, the story and more. You also get behind the scenes footage on set and insight into the make-up effects.
Given the popularity of zombies these days AMC definitely released this one at the right time. I thought the show was pretty good overall, but not in my top tier of cable programming. I liked the drama, but the show wasn't quite as engaging as some of my favorites. Still, for fans of zombies this is a must see.
LATEST VIDEO