The A-Team—20th Century Fox (Blu-ray)
Video: 4/5
Audio: 5/5
Extras: 3/5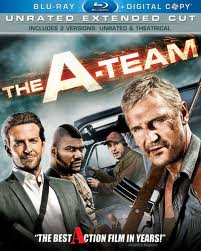 The A-Team follows the exciting and daring exploits of a colorful team of former Special Forces soldiers who were set up for a crime they did not commit. Going "rogue", they utilize their unique talents to try and clear their names and find the true culprit.
Summer blockbusters always look good on Blu-ray and this is definitely no exception. The stylized palette leans toward the teal and orange look that has become nearly a staple of our time and contrast is boosted throughout. Fine object detail is impeccable and the CG sequences offer some captivating demo sequences that I'm sure will be used to show off systems for some time to come (the C-130 sequence is definitely a great demo). My only complaint is the softness that comes from some of the intercut stock footage from time to time. It can be a bit jarring compared to the otherwise crisp visuals of the movie. The soundtrack is everything I'd expect from a big budget summer action fest. Lots of bass, immersive surrounds and LOTS AND LOTS of action. This is an engrossing mix with great panning effects, flawless imaging and incredibly dynamic sound design.
The Blu-ray includes two separate cuts of the film and also a digital copy for your portable device. Extras also include production features that look behind the scenes, some deleted scenes and more.
Never would I have thought that this film would live up to be one of the funnest films of this summer. TV reboots rarely impress but this one hits its notes just right with a great blend of action and comedy. Sure it's mindless fun, but unlike most films like this, it actually IS fun.
LATEST VIDEO