The Switch—Lionsgate
Video: 4.5/5
Audio: 3.5/5
Extras: 2/5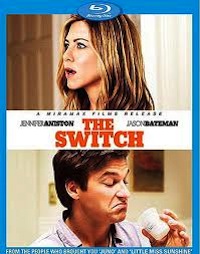 Despite her best friend Wally's (Bateman) objections, smart, fun-loving single Kassie (Aniston) decides it's time to have a baby - even if it means taking matters into her own hands. But accidents happen and a rip-roaring drunk Wally has to switch her preferred donor's sperm with his own.
Lionsgate serves up a gorgeous Blu-ray transfer for this romantic comedy. Fine object detail is outstanding throughout and I was really impressed with the depth of image. Dimensionality is near reference quality and colors have no signs of noise but lean a bit toward blue and cyan. Contrast levels are good but black levels are slightly elevated. The soundtrack is what I would expect from a film in this genre. The film's score fills in the spatial holes nicely and the dialogue is in balance perfectly with the rest of the track. Surrounds are used sparingly for ambiance providing a pleasant overall mix.
Extras include some behind the scenes footage on set with the cast and crew plus some deleted scenes and bloopers. You also get an alternate ending and trailers.
While still a bit by the numbers, The Switch offers some solid laughs and heart. Bateman and Aniston both deliver convincing performances and the story was more entertaining than I was expecting. A fun flick for date night.
LATEST VIDEO