The Paul Brady Songbook
Paul Brady, Liam Genockey, Steve Fletcher, Jennifer Maidman, Mary Black, Paddy Glackin, Andy Irvine, Donal Lunny, Liam O'Flynn. Directed by Julian Vignoles. Aspect ratio: 2.35 (anamorphic). Dolby Digital 2.0 (English). 108 minutes. 2003. Koch Entertainment/Compass Records 743599. NR. $24.98.
Picture ***
Sound *** 1/2
Film ****
In 2002, RTE Television, the production division of Ireland's public television network, made six programs about Irish-born musician Paul Brady. While Brady has been making music for over 30 years, few outside the rarefied world of roots and folk music think of him as a major artist. Many have heard his songs courtesy of such artists as Bonnie Raitt, whose platinum album Luck of the Draw features Brady's song as the title track.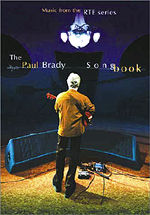 Instead of doing a straight biographical documentary or concert film, producer Julian Vignoles opted for a combination of interviews and specially staged performances. Filmed in Marley House in Dublin's Rathfarnaham historical park, the shows follow Brady's career: from his beginnings as a folk-pop performer to his days as a traditional Irish folksinger, and finally through his development as an influential singer-songwriter. By mixing concise interviews of close associates with freshly recorded renditions of his songs, the series avoids the worst pitfalls usually found in musician biographies—stale, old footage and long, boring narrations. Recording the performances in the Marley House combined the high fidelity of a studio recording with the spontaneity of a live concert. But unlike a concert film, with its limited camera angles due to the presence of an audience, this setting allowed the cameras to move and capture the action without physical restrictions.
Although the series was originally made as six separate TV episodes, the segments flow seamlessly into each other. The picture quality is well above what you'd expect from a TV production: With its 16:9 aspect ratio, sharp focus, delicate color palette, grainless film textures, and absence of video noise, The Paul Brady Songbook seems more like a feature film than a transgendered TV show.
The quality of the sound varies depending on the sources. When the group plays quietly, in small ensembles and/or with only acoustic instruments, there is excellent presence, harmonic accuracy, and superb clarity. When the electric band, complete with horn section, opens up to full concert levels, the sound becomes untidy, compressed, and occasionally strident. I suspect the room used for the performances was unable to handle high sound-pressure levels without overloading. Of course, no room is perfect, but it's a shame that the Marley House wasn't more rock'n'roll-friendly. But even at its worst, the music on The Paul Brady Songbook has a vibrancy and intimacy rarely captured on film.
You'd think that 32 songs in six programs would be enough to satisfy even the most ardent Brady fan, but the special features include five songs not included in the original TV programs. These, the only special features on the disc, are welcome extra dollops of content, even if the sound and picture qualities are a bit lower than the rest.
Because of production costs and thus the need to sell a lot of copies, most music films available on DVD are mainstream pop. While I have nothing against commercial pop music, it's refreshing to see something with more emotional depth than a perfectly choreographed James Taylor, Madonna, or Rolling Stones concert film. Here's hoping The Paul Brady Songbook will be the first of many DVDs aimed at those of us who yearn for intimate performances with a more organic edge, and that it will bring Paul Brady's prodigious talent to a wider audience.—SS
LATEST VIDEO