The Next Three Days—Lionsgate
Video: 4/5
Audio: 4.5/5
Extras: 3.5/5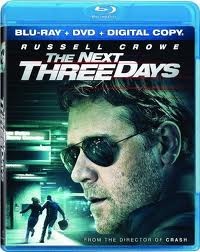 Life seems perfect for John Brennan until his wife, Lara, is arrested for murder she says she didn't commit. Three years into her sentence, John is struggling to hold his family together, raising their son and teaching at college while he pursues every means available to prove her innocence. With the rejection of their final appeal, Lara becomes suicidal and John decides there is only one possible, bearable solution: to break his wife out of prison. Refusing to be deterred by impossible odds or his own inexperience, John devises an elaborate escape plot and plunges into a dangerous and unfamiliar world, ultimately risking everything for the woman he loves.
Lionsgate serves up a solid HD presentation all around for this tight thriller. Detail and dimension are first rate with no apparent compression artifacts or film wear. Contrast is excellent with great shadow detail and inky blacks. Fine object detail holds up quite well through most of it but there are some moments when a bit of softness creeps in to the frame. The 7.1 DTS-HD Master Audio mix does the mood and atmosphere of the film proud with subtle ambiance, engaging surrounds and a decent bottom end. The latter half of this movie is where you'll find most of the action and the soundtrack doesn't disappoint.
The 2-disc set includes both a DVD of the film plus a digital copy for portable devices. You also get a feature commentary with the film's director and quite a few behind the scenes features that give you an insight into the cast and crew and the making of the film. Some deleted and extended scenes are also included along with trailers.
This is a solid thriller that will have you guessing until the end. I can only imagine how often something like this is even attempted and it would have been pretty cool to find out if it does. Lionsgate serves up a great presentation and solid extras making this an easy recommendation.
LATEST VIDEO