The King of Comedy
Robert DeNiro, Jerry Lewis, Sandra Bernhard, Diahnne Abbott, Ed Herlihy. Directed by Martin Scorsese. Aspect ratio: 1.85:1. Dolby Digital mono. 101 minutes. 1983. 20th Century Fox 93602. PG. $19.98
Rupert Pupkin (Robert DeNiro), an aspiring comedian with no lack of confidence and a tendency toward delusion, is already in his 30s. Rather than wait around for fame to knock on his door, Pupkin compels his own big break by saving Jerry Langford (Jerry Lewis), a late-night-talk-show host à la Johnny Carson, from a hungry mob, and subsequently propelling himself uninvited into Langford's limousine. To get the gabby and ambitious would-be comedian out of his limo, Langford agrees to let Pupkin drop his audition tape off at his office. Pupkin then races home to fantasize about future lunches with and proposals from Langford while his mother bellows at him from above to keep it down. At Langford's office, his secretary screens Pupkin, telling him frankly that he needs more exposure and to get back to them after he's developed his act. Thus, the stalking begins. Pupkin has a co-conspirator in Masha (Sandra Bernhard), who is infatuated with Langford. The two plot an elaborate scheme that will no doubt further Pupkin's "career" and get Masha into Langford's bed.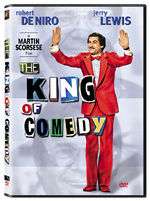 This lesser-known Martin Scorsese film is grounded by excellent characters played with aplomb by Lewis, DeNiro, and Bernhard. Pupkin, a fame-hungry loser living in a fantasy world, by his very nature induces suspense —he's ready to snap at any moment. Masha, a crazy, bored, rich girl, is hilarious in her depravity, and Langford has a sort of restrained rage that is evident in his terse but cordial responses to both of his stalkers. The overused theme of overcoming obstacles to realize a dream is given a dark twist in this film; for Pupkin, at least, the ends do justify the means.
The anamorphic DVD looks good but not great. Stylistic choices, the dark ambiance of Pupkin's bedroom (complete with life-size cardboard cutouts of Langford and Liza Minelli), Pupkin's gaudy costumes, and a little grain prevent it from being all that it could be visually. Compared with what we've had to put up with on VHS, however this DVD is quite welcome.
The sound is mono, which also suits the material. While surround activity would of course have been desirable, the dialogue-driven soundtrack and asinine but enjoyable 1980s score coming out of only my front speakers made the experience more authentic and seedy.
A documentary featuring interviews with Scorsese and Bernhard, interspersed with scenes from the film, is by far the most interesting extra. There are also deleted scenes featuring Jerry Lewis, the theatrical trailers, and little else. But despite its mono soundtrack and scanty extras, this DVD is too good to miss. Even DeNiro himself cited his role as Pupkin as his best performance ever.—KR