The Happening—20th Century Fox (Blu-ray)
Video: 3.75/5
Audio: 4/5
Extras: 4/5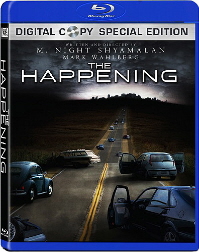 Mark Wahlberg stars as Elliot Moore, an ordinary man trying to save his family from a terrifying, invisible killer. As Elliot begins to discover the true nature of what is lurking out there, it soon becomes clear that no one - and nowhere - is safe.
This is by far the most disappointing film I've seen from M. Night. Some of his previous films received lackluster reviews but still proved to be quite entertaining but this one just didn't seem to have anything going for it. The tempo of the film is a bore, there is no tension and the final outcome just had me shrugging. Hopefully we'll see something much better with The Last Airbender and a return to the vision he once showed.
The HD presentation is good but fell a bit short of some of Fox's more recent releases. The image had a grittier look to it that bordered on a bit too noisy. Detail looks good throughout but the mix of high contrast and wavering fine detail didn't overly thrill me. Colors are slightly saturated and the random countryside locations have nice depth but ultimately the imagery wasn't as compelling as I was hoping for.
The DTS-HD Master Audio 5.1 mix is a subtle mix of ambiance and dialogue. The mix is not overly inventive but the film's score does a decent job of conveying mood and locking you in from time to time. Dynamic range is on the limited side but there are some moments of nice impact and low end response. The film's dialogue is recorded well and balanced within the mix nicely.
Fox delivers the full on special edition treatment for this one. This movie is Bonus View enabled and offers a trivia track using picture-in-picture delivery. Deleted scenes with commentary from the director are included along with a collection of production features that look at different aspects of the film's look and issues. A gag reel is also included. A second disc contains a digital copy of the film for your portable media player.
It is disappointing to see a director I admire so much fall flat like this. The film was almost embarrassingly bad and honestly didn't bring anything to the table worth noting. Fox has done a good job with the package as a whole, but not enough to make up for the dud of a film.
LATEST VIDEO