The Eagle—Universal
Video: 4.5/5
Audio: 4.5/5
Extras: 3.5/5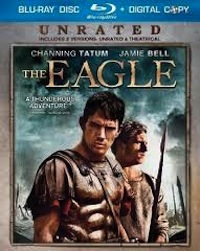 The Roman epic adventure "The Eagle" is based on the classic novel "The Eagle of the Ninth". In 140 AD, twenty years after the unexplained disappearance of the entire Ninth Legion in the mountains of Scotland, young centurion Marcus Aquila arrives from Rome to solve the mystery and restore the reputation of his father, the commander of the Ninth. Accompanied only by his British slave Esca, Marcus sets out across Hadrian's Wall into the uncharted highlands of Caledonia - to confront its savage tribes, make peace with his father's memory, and retrieve the lost legion's golden emblem, the Eagle of the Ninth.
Universal delivers an outstanding video transfer that is ripe with rich detail and dimension. Fine object detail is some of the best I've seen on the format and close ups reveal so much texture it is unbelievable. Depth of image is strong but somewhat inconsistent at times. Colors are very stylized with lots of oversaturation and contrast is aggressive with deep blacks. The DTS-HD Master Audio mix has lots of low end pronouncement, especially in the battle sequences, keeping the tension of the moment perfectly. The sound design is decent enough with a nice balance of score and subtle ambiance and the dialogue is blended in perfectly. When it needs to get aggressive it does with plenty of LFE presence and outstanding surround presence. Overall a terrific presentation from Universal.
The Blu-ray release features both the Unrated extended cut and the theatrical cut. There is also a code for a digital copy for your portable device. Film supplements include a feature commentary, an alternate ending and some production features.
I didn't know what to expect going into this one and so far I haven't been much of a fan of Channing Tatum's films. But The Eagle was definitely a fun ride with nice intensity, a great story and surprisingly strong performances from the entire cast. While I don't see it winning any awards, it is still worth a look for fans of the genre.
LATEST VIDEO