Spirited Away
Voices of Daveigh Chase, Jason Marsden, Suzanne Pleshette, Michael Chiklis, Lauren Holly, John Ratzenberger, Susan Egan, David Ogden Stiers. Directed by Hayao Miyazaki. Aspect ratio: 1.85:1 (anamorphic). Dolby Digital 5.1 (English, Japanese, French, Spanish). Two discs. 132 minutes. 2001. Walt Disney Home Video 04784. PG. $29.99.
When young Chihiro and her parents take the wrong road on their way to their new home in the country, they end up in what looks like an abandoned amusement park. Chihiro becomes separated from her family under alarming circumstances and ends up in the adventure of her life. In the process, she grows from a surly, hesitant 10-year-old to a resourceful young lady.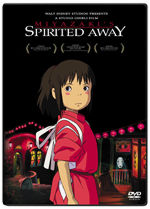 Spirited Away is the latest animated film from Japanese artist Hayao Miyazaki and his team at Ghibli Studios. While his earlier films, including My Neighbor Totoro and Princess Mononoke, were highly praised, 2001's Spirited Away, which arrived in US theaters last fall to critical acclaim, may well be his masterpiece.
To the consternation of its fans, American feature animation has long been perceived as a medium for children, and the sophistication of many recent efforts has not entirely dispelled this notion. But its Japanese counterpart is very different. Like US animation, the Japanese version is heavy on fantasy and science-fiction. But animé, as it has come to be known, sometimes adds generous helpings of nudity, blood, violence, and convoluted plots, making it more intriguing to adults but also far less family-friendly.
There is no nudity in Spirited Away, and no bloody violence to speak of (though a little blood is spilled). But it's long for an animated film. And while it's possible that something was lost in the translation, its complicated plot is full of the sort of detours that might confuse children and adults. You can get away with a lot in fantasy, but the best fantasy has its own internal logic, with rules that govern its fabricated universes, however bizarre. Spirited Away comes up a little short in that department. But perhaps the answer to the random structure of the film lies in the fertile, freewheeling imagination of Miyazaki himself, with a big helping of Japanese mythology—and dollop of Alice in Wonderland—thrown into the mix.
Spirited Away doesn't depart from the big, round eyes, limited mouth movement, and stiff character motion typical of animé. But it nevertheless dazzles us with gorgeous artwork, vivid images, and unexpected delights. And Disney, which is distributing the film in the US but was not involved in its production, has given us the opportunity to see it all in a pristine DVD transfer. You won't see any digital artifacts here, the colors are rich and true, and the images are, with rare exceptions, crisp. The audio initially sounds a little bland compared with the exciting mixes we've become accustomed to from recent American animated features, but careful listening reveals how well it has been done in its own, subtle way. I listened mainly to the dubbed English track—with all those hypnotic images, who wants to stare at subtitles?
This two-disc set also provides a solid selection of added features. Disc 1 includes trailers for a number of other animated films, including two earlier Miyazaki productions, Castle in the Sky and Kiki's Delivery Service, both of which should be available on DVD by the time you read this. There's also a documentary, The Art of Spirited Away. On disc 2 you get Behind the Microphone, which covers the English dubbing sessions for the US release. There's also an extended storyboard feature, 22 (count 'em!) 22 trailers and teasers, plus an in-depth special on the film produced for Nippon Television. The last shows how the voice characterizations at Miyazaki's studio are done after the animation has been completed, unlike in most America animated features, where the voice actors record their work before a single frame is drawn. One wonders how, for example, the genie in Aladdin might have turned out had Robin Williams been so constrained. But there's no "right" answer here. Recording after the artwork gives the voice actors less room to develop their roles but gives the animators more freedom.
I once heard a story about the 1970s TV miniseries Shogun, co-produced by US and Japanese filmmakers. A Chinese junk was scheduled to appear in one brief scene, but only one side of the ship would be shown. The American production staff had planned to finish only the side of the junk that would appear on camera, but the Japanese insisted on doing the back as well. That sort of obsession is rare today, with film studios scrutinized by bean counters from their corporate owners, but an example of it in Spirited Away is shown in one of the documentaries. To produce the sound of the family car that appears early in the film, the sound engineers didn't record just any car, or use a stock "car sound" from their sound archives, but took the trouble to record the same model of Audi that's depicted in the film. That obsessive attention to detail is apparent throughout Spirited Away. It's terrific.—TJN
LATEST VIDEO