Se7en—New Line (Blu-ray)
Video: 4.5/5
Audio: 5/5
Extras: 4/5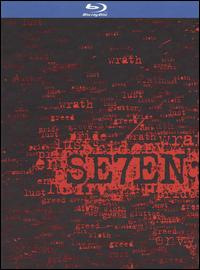 Gluttony. Greed. Sloth. Wrath. Pride. Lust. Envy. Two cops track a brilliant and elusive killer who orchestrates a string of horrific murders, each kill targeting a practitioner of one of the Seven Deadly Sins.
I was really hoping for the best when this one arrived, as it is one of my favorites from this genre and a brilliant case of production design. Thankfully Warner delivered. The Blu-ray presentation is pristine with incredible depth, dimension and contrast. This is a dark production with subtle stylization and incredible photography. I was really impressed with how well the elements have held up for this HD release and the clarity and depth the picture brings. The 7.1 DTS-HD Master Audio mix is also first rate with blistering dynamics and incredible sonic presence. The opening title sequence is a great example with a tight low end, great use of the side and surround stage, and marvelous detail.
Extras are similar to the previously released Platinum Series edition and include lots of behind the scenes information, interviews and more. You also get a feature commentary, deleted scenes, trailers and a look into the world of this dark film's characters. Warner delivers this one in digi-book form complete with information and pictures about the film, its production, and its affect on cinema.
This is Fincher at his best and a film that changed the direction of the serial thriller for quite sometime. Warner delivers a fabulous Blu-ray presentation, which is one of the best I've seen this year. Highly recommended.
LATEST VIDEO