Romancing The Stone—20th Century Fox (Blu-ray)
Video: 4.25/5
Audio: 3.5/5
Extras: 2.5/5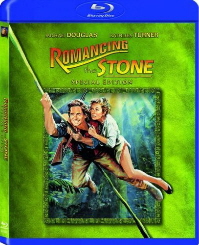 When her sister is kidnapped by thugs searching for a priceless jewel in the Colombian jungle, a romance novelist soon finds her own life filled with cliffhangers and danger. All alone, she sets out to rescue her sister and meets up with a handsome fortune seeker who convinces her to beat the bandits to the treasure.
This has always been one of my favorite catalog films from Robert Zemeckis. The first team up of Douglas and Turner combines great comedy, romance and action in an Indiana Jones meets National Treasure kind of way. It is great to see classic catalog releases like this find their way to Blu-ray.
Fox has done a spectacular job with this HD presentation. This new master is in impeccable shape and devoid of any obvious signs of wear and tear. Fine object detail is excellent and I was really impressed with the level of dimension the razor sharp imagery provides. The photography holds up really well and the color palette is gorgeous in the South American jungles. I've never seen this film look nearly this good.
The DTS-HD Master Audio mix is also good but not quite the revelation that the picture provided. The sound design sounds a bit dated and lacks the dynamic range we've become accustomed to with newer films. The soundstage does open up quite a bit though and surround use is impressive at times. Dialogue sounds a bit thin from time to time but the balance within the mix is solid.
Extras include some retrospectives on the film including interviews with the cast and crew. Some deleted scenes are also included.
This has always been a great catalog adventure film and I'm overjoyed that Fox has rekindled this series again for HD. The A/V presentation was far better than I expected and I'm looking forward to seeing what kind of job they did with the follow up, The Jewel of the Nile.
LATEST VIDEO