Patton—20th Century Fox (Blu-ray)
Video: 4/5
Audio: 3/5
Extras: 3.5/5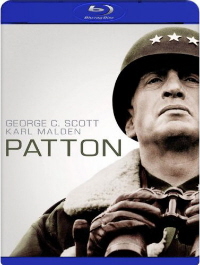 While he may not have been the most popular General of World War II there is no denying his effectiveness and contribution to the campaign. Patton has become one of the benchmarks for character biographies and George C. Scott's Oscar winning performance is nearly one of legend. The film does a great job showing both sides of Patton's personality and leaves it to the viewer to decide his own opinions on the man's methods and ideas.
This Blu-ray release has stirred up quite some controversy with its HD presentation. The film has been cleaned up quite a bit for this release and you won't see a speck of dirt on it. Problem is a lot of the really fine detail seems to be missing as well. That isn't to say that all detail is gone, definitely not, but 70mm captures a lot of fine details that just aren't there in facial features and environments. The image still has quite a bit of depth and dimension and I doubt most fans will complain, but some purists may cry foul.
The soundtrack is presented in DTS-HD Master Audio 5.1 and overall it is a good representation of an aging soundtrack. Dynamics were still better than expected and the score holds up extremely well. Dialogue can be a bit on the bright side at times, but fidelity is only marginally lacking.
Fox has delivered a two-disc set for this release. The main feature has an introduction with Coppola on creating the script and some funny history. You also get a feature commentary with him. The second disc is a standard DVD and includes a collection of documentaries on the production and the man himself. There is also a still gallery set to the film's score and the theatrical trailer.
While a bit controversial I think Fox has done a great job bringing Patton to Blu-ray. While I hope Fox takes a bit more care with their video in the future, I think most will be quite pleased with the result.

SPONSORED VIDEO