Open Range
Kevin Costner, Robert Duvall, Annette Bening. Directed by Kevin Costner. Aspect ratio: 2.35:1 (anamorphic). Dolby Digital 5.1. 139 minutes. 2003. Two discs. Buena Vista Home Video 32055. R. $29.99.
Picture ***
Sound ***1/2
Film ***
While Open Range is fiction, it's based on historical reality. In the 1880s, farmers and ranchers in the West were increasingly resistant to allowing so-called "free grazers" to roam the Open Range in search of good land on which their herds could feed. So when Boss Spearman and his three hands lead their herd onto fertile ground near a small frontier town, the local land baron and his henchmen, including the town's sheriff, will stop at nothing to drive them off or, failing that, to kill them and steal their cattle.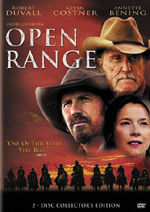 If you're expecting a rough-and-tumble action movie, this isn't it. A thoughtful character study, Open Range is actor-director Kevin Costner's first directorial effort since The Postman (a savagely reviewed effort that might have been successful with a little more editing and less competition—Titanic sailed in its path). It returns him to the genre he appears most comfortable in: the Western. A solid, thoughtful work, it's marred only by length. Costner has a weakness for epic running times, although for him, Open Range's 2 hours and 19 minutes constitute a short subject. The slow buildup initially left me impatient, before I adjusted to the film's distinctive rhythm.
This isn't a great Western, but it is a very good one. The epic scenery—the film was shot in the Canadian Rockies—results in breathtaking visuals that take full advantage of the film's wide (2.35:1) aspect ratio. While the average action quotient is low, the climactic gunfight is one of the best—perhaps the best—ever filmed. Most important, the characters are vividly drawn, thanks to a solid script and outstanding performances all around. That's no surprise from Annette Bening and, in particular, Robert Duvall as Boss. (I write this before the ballots have been counted, but Oscar voters' short memories may keep Duvall from the nomination he deserves for this role.) The real surprise here is Costner himself. Perhaps because his character is a perfect match for the actor's typically restrained, even flat delivery, or perhaps because Costner was in pain from an inflamed appendix throughout much of the shoot, he's never been better.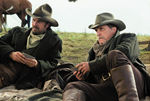 The video transfer is good. It's just a little soft throughout, but with no intrusive edge enhancement. And while much of the soundtrack consists of dialog and Michael Kamen's well-recorded score, there are a couple of killer thunderstorms and, in particular, that explosive gunfight to perk up your surround system. In other words, you won't choose Open Range as a demonstration piece, but there are no technical issues to get in the way of your enjoying the film.
Apart from Costner's audio commentary, all of the extra features are on disc 2. There's a short feature on the history of the Open Range, deleted scenes, storyboards, and a music video. But the real treat is Beyond Open Range, an hour-long "Making Of" feature that's one of the best of its kind I've seen. Candidly narrated by Costner, it's nearly as much fun as the movie itself.
If you love Westerns, or even if you're not really a fan of them, you'll find Open Range one of the better movie surprises of 2003.—TJN
LATEST VIDEO