The Invention of Lying (Blu-ray)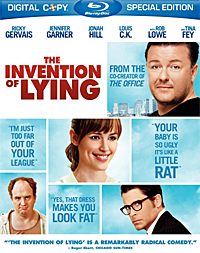 In an alternate reality in which lying doesn't exist and everyone speaks the truth and nothing but the truth with no worry of hurt feelings. When one man (Ricky Gervais) suddenly develops the ability to lie, he finds it has its rewards. A new world of fame and fortune opens up but he steadfastly refuses to fib his way into the heart of the woman he loves. Can he get the girl on his own merits?
This is certainly not your typical romantic comedy and expands into heavy topics such as religion and ethics. Mark Bellison (Gervais) is a genuinely nice guy who chases a girl who's out of his league (Jennifer Garner) although the more I got to know her I couldn't see why he was interested. Sure, she's easy on the eyes but she isn't very intelligent or likable. Regardless, the fallout from Mark's lies are the most entertaining aspects of the film.
The 1080p/VC-1 encode is pleasing to the eye with richly saturated colors, deep blacks, and above-average detail. Close-ups are sharp as a tack, and longer shots retain most of their definition without any edge enhancement. Flesh tones are a little smeared most likely due to some over processing during the encoding process.
A solid audio experience awaits in the Dolby TrueHD 5.1 soundtrack with rich, clearly intelligible dialog. Suitable ambience emanates from the surround channels, which are quite active, especially when Mike discovers his newfound ability to lie.
Supplements include deleted scenes, outtakes, an interesting prequel "The Dawn of Lying," some video podcasts, and a production featurette. There's also a digital copy of the film for use with portable players and computers.
The moral quagmire Mark creates with his lies is amusing and there are a few laugh-out-loud moments, especially when he uses pizza boxes as props. The presentation is solid, but given the genre I didn't expect to be blown away. Recommended.
Release Date: January 19, 2009
Studio: Warner
Movie: 7/10
Picture: 8/10
Sound: 8/10

Review System
Source
Oppo BDP-83 Blu-ray player

Display
JVC DLA-RS1 projector
Stewart FireHawk screen (76.5" wide, 16:9)
Electronics
Onkyo Pro PR-SC885 pre/pro
Anthem PVA-7 power amplifier
Belkin PF60 power conditioner
Speakers
M&K S-150s (L, C, R)
M&K SS-150s (LS, RS, SBL, SBR)
SVS PC-Ultra subwoofer
Cables
Monoprice HDMI cables (source to pre/pro)
Best Deal analog-audio cables
PureLink HDC Fiber Optic HDMI Cable System (15 meters) from pre/pro to projector

Acoustical treatments from GIK Acoustics
LATEST VIDEO