The Informant! (Blu-ray)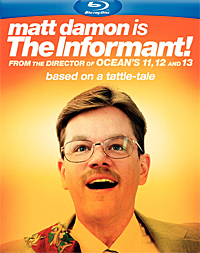 In 1992, Archer Daniels Midland (AMD) divisional president Mark Whitacre (Matt Damon) became the highest ranking whistleblower in US history when he accused his company of price-fixing schemes with its worldwide competitors. Instead of leaving the company, Whitacre stays on the inside and helps the FBI gather evidence by wearing a wire and videotaping secret meetings in order to build the government's case against the greedy executives. Unfortunately for Mark, he wasn't as smart as he thought.
Director Steven Soderbergh is known for weaving complicated stories into entertainment with hits such as Erin Brockovich, Traffic, and the Ocean's 11 franchise. While I enjoyed the film a lot, it does take some patience to get through the first act. Matt Damon excels as the quirky executive, but his bizarre behavior doesn't come into full focus until the last few minutes of the film, making a repeat visit something to look forward to.
Video Highlights

VC-1/1080p encode on BD-25 disc
Digitally shot with a Red One camera
Bland transfer lacking texture & depth
Overblown contrast
Audio Highlights

Dolby Digital TrueHD 5.1 soundtrack
Front-loaded presentation
Intelligible dialog
Surround speakers relegated to general ambience
Bonus Materials

Audio commentary with director Steven Soderberg and writer Scott Z. Burns
Four deleted scenes (HD)
DVD copy of film
Digital Copy
While the first act will try your patience the payoff at the end is more than worth it. Damon delivers an impressive performance but sadly the video encode isn't that inspiring due to the stylized cinematography but it's definitely worth a rental for the story.
Click here to email any comments or questions!
Release Date: February 23, 2010
Studio: Warner
Movie: 8/10
Picture: 5/10
Sound: 7/10

Review System
Source
Oppo BDP-83 Blu-ray player

Display
JVC DLA-RS1 projector
Stewart FireHawk screen (76.5" wide, 16:9)
Electronics
Onkyo Pro PR-SC885 pre/pro
Anthem PVA-7 power amplifier
Panamax M5400PM power conditioner
Speakers
M&K S-150s (L, C, R)
M&K SS-150s (LS, RS, SBL, SBR)
SVS PC-Ultra subwoofer
Cables
Monoprice HDMI cables (source to pre/pro)
Best Deal analog-audio cables
PureLink HDC Fiber Optic HDMI Cable System (15 meters) from pre/pro to projector

Acoustical treatments from GIK Acoustics
LATEST VIDEO