Network—Warner Bros.
Video: 3.5/5
Audio: 2/5
Extras: 3.5/5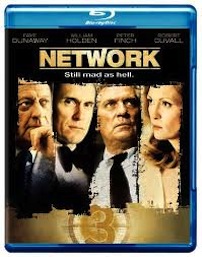 Newscaster Howard Beale has a message for those who package reports of cute puppies, movie premieres and fender benders as hard news: "I'm as mad as hell, and I'm not going to take this anymore." Sidney Lumet directs Paddy Chayefsky's satire about the things people do for love and ratings.
Warner does a pretty good job with the video transfer for this Blu-ray release. Film grain is pretty heavy at times but fine detail is pretty solid. The image has a decent sense of dimension and colors have a nice sense of balance throughout. There is some occasional print wear but nothing I would call distracting. The soundtrack is presented in its original mono mix and pretty much sticks to dialogue with little in the way of ambiance.
Warner has included a 6-part documentary on the film that covers every aspect of the production and the response of the media to it. You also get some interviews, a feature commentary with the director and trailers.
This has always been a great film and the themes are just as relevant today as they were 35 years ago. Incredible performances and downright disturbing truths. A must see.
LATEST VIDEO
WHERE TECHNOLOGY BECOMES ENTERTAINMENT