Indecent Proposal (Blu-ray)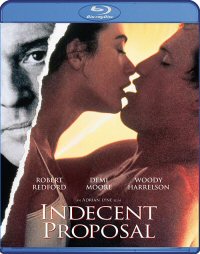 Demi Moore and Woody Harrelson play Diana and David Murphy, high-school sweethearts who marry and who are doing very well - Diana is a successful real-estate agent, and David is an idealistic architect who has built a dream house by the ocean - until the recession hits. Suddenly, David loses his job, and they can't make the mortgage payments. Dead broke, they borrow $5000 from David's father and head to Las Vegas to try to win money to pay the mortgage on their house. At first, they get $25,000 ahead - but inevitably the house always wins, and they end up losing it all. While Diana is in the fancy casino boutique trying to lift some candy, she is spotted by billionaire John Gage (Robert Redford), who is immediately attracted to her. John invites Diana and David to an opulent party, and it is there that John offers David $1 million for a night with his wife. David is wracked by this moral dilemma, but Diana finally makes the decision on her own, with ensuing consequences for their ideal marriage and their bank account
.
Adult dramas like this are few and far between these days and I'm glad to see Paramount putting out two great Adrian Lyne films on Blu-ray the same week. Indecent Proposal is great at stirring up conversation as to "what would you do" and ponders some interesting thoughts on love and circumstance. The premise is well executed and the cast does a great job. I'm glad to see the studios catering to the adult market and hope to see more.
Paramount does a good job with this catalog title, but it isn't a homerun. The print is in decent shape but lacks the spit and polish of other Blu-ray's. The colors are subdued and there's excessive noise around fine detail with some subtle ringing. On the plus side, depth and dimension are solid.
The TrueHD 5.1 soundtrack is adequate and has all the characteristics of an older catalog title. The mix is a tad thin and bright, with natural dialog and decent ambience. The score opens things up enough to be interesting but the soundstage is pretty front heavy.
Extras are limited to a director's commentary.
Adult dramas are few and far between on Blu-ray and I'm glad to see Paramount delivering some. While the presentation isn't a knockout, it is far better than the DVD.
Release Date:June 9, 2009
Studio: Paramount
Movie: 7/10
Picture: 6/10
Sound: 7/10

Review System
Review System
Source
Oppo BDP-83 Blu-ray player

Display
Planar PD-8150 1080p DLP Projector
120" ST 130 Screen w/ Carada Masquerade Masking System
Electronics
Onkyo Pro PR-SC885 pre/pro
Outlaw Model 7900 Fully Balanced Amp
Exact Power EP-15A Voltage Regulator
Exact Power SP15x4 Balanced Power Transformer
Speakers
Paradigm Reference Signature S8 Mains
Paradigm Reference Signature C5 Center
Paradigm Reference Signature ADP Surrounds
Paradigm Reference Signature S6 Rears
Dual SVS PB12/2 Plus Subs
Dual SVS 25/31 Subs
Cables
Cables by Accell, Nordost, Blue Jeans and Better Cables

LATEST VIDEO