The Incredibles (Blu-ray)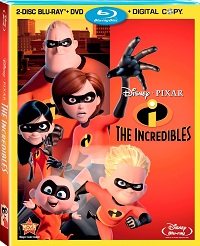 Once one of the world's top crime fighters, Bob Parr (a.k.a. Mr. Incredible) fought evil and saved lives on a daily basis. But 15 years later, he and his wife Helen (the former Elastigirl) have been forced to take on civilian identities and retreat to the suburbs. Itching for action, Mr. Incredible gets his chance when a mysterious communication summons him to a remote island for a top-secret assignment.
Pixar has quite a track record with its films, and this is one of their best. I love how they take something from our society (rampant personal injury lawsuits) and weave it into a story about superheroes that can no longer practice their craft because someone gets a sore neck when being saved from certain death! The cast is brilliant here with Craig T. Nelson and Holly Hunter as the husband and wife crime fighting team along with Samuel L. Jackson as Lucius Best/Frozone.
Video Highlights

AVC/1080p encodes on a BD-50 discs
Outstanding detail
Vivid color saturation
Excellent depth
Audio Highlights

DTS-HD MA 5.1 soundtracks
Immersive presentations
Pinpoint discrete effects from every speaker
Chest-thumping bass
I've yet to watch a Pixar film on Blu-ray and not be blown away by the presentation, and the trend continues here. The color saturation at the beginning is intentionally drab to depict Parr's boring new lifestyle, but once the crime fighter puts his tights back on, things really liven up (especially on the tropical island). The audio track is just as impressive with deep bass, pinpoint discrete effects, and creative sound design.
Bonus Materials

Includes 2 Blu-ray discs, DVD, and Digital Copy
Two audio commentaries
The Incredibles Revisited
Boundin' with optional commentary
Jack-Jack Attack with optional visual commentary
Deleted scenes
The New Nomanisan: A Top Secret Redevelopment Plan
Paths to Pixar: Story Artist
Studio Stories: Gary's Birthday
Ending with a Bang: Making the End Credits
Making of The Incredibles
Classic DVD bonus features
Trailers, TV Spots, Interactive Art Gallery
Movie Voucher for Cars 2
At nearly two hours long, younger kids may have a hard time staying with this one through the protracted first act, but it really sets up the story for what's to come. Disney has given this movie the A-list treatment it deserves on Blu-ray with a fabulous presentation and some new supplements. Highly recommended.
Release Date: April 12, 2011
Studio: Disney
Movie: 9/10
Picture: 10/10
Sound: 10/10

Review System
Source
Oppo BDP-93 Blu-ray player

Display
JVC DLA-RS40 projector
Stewart FireHawk screen (76.5" wide, 16:9)
Electronics
Integra DTC-80.2 pre/pro
Anthem PVA-7 power amplifier
Belkin PVA-PF60 power conditioner
Speakers
M&K S-150s (L, C, R)
M&K SS-150s (LS, RS, SBL, SBR)
SVS PC-Ultra subwoofer
Cables
Monoprice HDMI cables (source to pre/pro)
Best Deal analog-audio cables
PureLink HDC Fiber Optic HDMI Cable System (15 meters) from pre/pro to projector

Acoustical treatments from GIK Acoustics