Mesrine: Killer Instinct—Music Box
Video: 4/5
Audio: 4/5
Extras: 1/5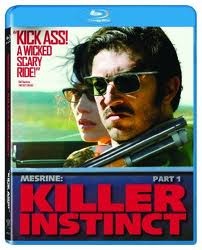 "Mesrine: Killer Instinct" introduces us to Jacques Mesrine, a loyal son and dedicated soldier back home and living with his parents after serving in the Algerian War. Soon he is seduced by the neon glamour of sixties Paris and the easy money it presents. Mentored by Guido Mesrine turns his back on middle class law-abiding and soon moves swiftly up the criminal ladder. After pulling off an audacious heist he and his lover Jeanne flee to Canada where the opportunity of one big payout lures him out of hiding and propels his towards international notoriety.
This is the second Blu-ray of Mesrine that I've viewed, I own the import version from France. The Music Box presentation looks to be largely identical to the import with solid fine object detail and dimension. The photography does have a bit of a gritty look with prominent film grain at times, but I love the stylization. Colors are bold and slightly oversaturated giving the film a bit of a old-Hollywood feel at times. While the cover doesn't list a lossless soundtrack the track is indeed a TrueHD mix. You can either view with the original French soundtrack or an English dub. Plenty of great dynamics in this one with lots of ambiance and surround use. I also love the soundtrack selections throughout.
No real extras included except for some trailers.
There is something wrong with Hollywood lately. Some of the best performances we're seeing are coming from overseas and they are never recognized come awards season. Cassell is BRILLIANT in these films and won the Best Actor award in France but wasn't even recognized here. The same can be said for Tom Hardy's brilliant performance in Bronson. Gangster films don't get much better than this and Cassell's performance is his best yet. Highly recommended.
LATEST VIDEO