Marley and Me—20th Century Fox (Blu-ray)
Video: 5/5
Audio: 4/5
Extras: 4/5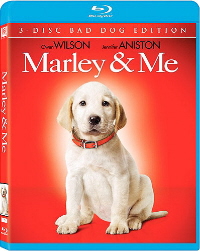 "Marley & Me" is a memoir of Philadelphia Inquirer columnist John Grogan's life with his yellow Labrador retriever. The heartwarming and unforgettable story of a family in the making and the wondrously neurotic dog who taught them what really matters in life.
I had a completely different impression of what this film was about judging from the previews. Most of the trailers I'd seen made this out like a family comedy with a chaotic dog making life crazy for a family. The film is actually more of a drama and takes you through the lives of a young couple who happen to buy a dog that adds a lot of craziness to their lives on top of the normal struggles relationships have every day. Marley certainly isn't the star of the film and actually takes a backseat to some of life's dramas (such as kids) through some of the film. But the film does do a great job of showing how an animal can become a real part of a family, regardless of how behaved it may be. This does end up being quite a sad film so those looking for family fun may want to reconsider this one if that is your goal.
Fox serves up an outstanding video transfer for this Blu-ray release. There really isn't anything to complain about here at all. The image has plenty of vibrant punch with great color saturation and plenty of detail. Fine detail is excellent all the way down to the textural level and depth of image is outstanding. I didn't see anything in the way of compression problems and I would easily rank this one up with the best I've seen lately on the format.
The soundtrack is presented in DTS-HD Master Audio 5.1 and is about what I would expect from the genre. The film's score does a nice job of opening the mix up a bit but this is largely a dialogue heavy soundtrack with only some subtle nuance from the surround soundstage and the occasional burst of fun music from the soundtrack. Nothing to complain about as tonal balance is excellent as is imaging across the mains.
Fox delivers a 3-disc set for this one. Disc two is the complete DVD release of the film giving you a lot of flexibility in your viewing options, and Disc three is a digital copy of the film for portable devices. The main disc feature a large collection of deleted scenes and some of the typical behind the scenes promos that we see so often on releases. You also get a feature on animal adoption and a dog training trivia track that is pretty funny.
This is very heart wrenching film at times so if you go in under the wrong pretense you may regret it. It is still a great film though and very touching for animal and drama lovers alike.

SPONSORED VIDEO