I'm Not There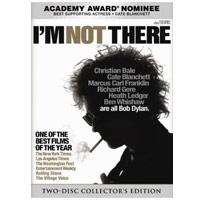 The Weinstein Company
---
Movie •••½ Picture •••• Sound •••• Extras •••½
You've got to hand it to writer/director Todd Haynes, just for getting this fractured, audacious movie made in today's sequel-powered Hollywood. With six different actors playing various facets of Bob Dylan's mythic persona - including Cate Blanchett (yes, Cate Blanchett) in an Oscar-nominated turn - I'm Not There is more fun for Dylan fans who can spot all the obscure references than it is for general viewers. But in the end, the movie works because it keeps returning to Dylan's music - not only his glorious original recordings, but a wealth of powerful new interpretations by young artists.
The movie presents a special challenge for DVD, as Haynes changes the look and feel of the visuals (right down to the film stock) to mirror Dylan's many changes and the eras in which they occurred. Yet the image quality here is sharp and clean throughout, from pastoral countrysides to chaotic New York streets. Of course, the vibrant Dolby Digital 5.1 sound­track is mixed to spotlight the music, even over dialogue. How could it be any other way?
Outtakes, auditions, and deleted/extended scenes don't amount to much. But the Dylan­ography, which details his life and career, lends needed context to this sprawling two-disc set. Forty minutes of interview footage with Haynes plus his commentary may be too much of a good thing. But when it comes to Bob Dylan, there's just a lot to say.
LATEST VIDEO