Little Fockers—Universal
Video: 4.5/5
Audio: 3/5
Extras: 3.5/5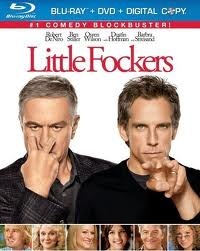 It has taken 10 years, two little Fockers with wife Pam and countless hurdles for Greg to finally get "in" with his tightly wound father-in-law, Jack. After the cash-strapped dad takes a job moonlighting for a drug company, however, Jack's suspicions about his favorite male nurse come roaring back. When Greg and Pam's entire clan - including Pam's lovelorn ex, Kevin - descends for the twins' birthday party, Greg must prove to the skeptical Jack that he's fully capable as the man of the house. But with all the misunderstandings, spying and covert missions, will Greg pass Jack's final test and become the family's next patriarch... or will the circle of trust be broken for good.
Universal delivers a solid presentation for this day and date release. The HD image is bright and punchy with nice color saturation and plenty of fine detail. Contrast levels are good and the depth and dimension of the image is what you'd expect from a recent film of this caliber. While I don't know if you'd use it for demonstration purposes, it's a knock out in the detail department. The 5.1 DTS-HD Master Audio mix is par for the course with a film like this. The film's soundtrack opens up the soundstage a bit with both the score and occasional pop tune and the dialogue is balanced nicely within the mix. Surrounds are used sparingly for some occasional direction effects and mild ambiance.
The 2-disc set includes a DVD of the film along with a portable digital copy for other devices. You also get some funny extras that include deleted scenes, gag reels and promo style featurettes.
Little Fockers is pretty much the same film you've seen with the other two installments of this series, only the gags are slightly different. While it has its laughs, I had a hard time getting over the fact that they keep recycling these plotlines with just a little situational difference to keep it from being a carbon copy of the last one. Stick to a rental.
LATEST VIDEO