Legend of the Guardians: The Owls of Ga'Hoole—Warner Bros. Pictures (Blu-ray)
Video: 5/5
Audio: 5/5
Extras: 4/5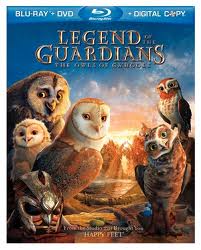 Young owl Soren marvels at tales of the Guardians of Ga'Hoole, mythic winged warriors who battled to save all owl kind from the evil Pure Ones. When he and brother Kludd fall into the talons of the Pure Ones, it's up to Soren to make a daring escape with the help of other brave owls and seek out the Great Tree, home of the Guardians.
This is the first Blu-ray that I've seen from Warner that uses AVC for its video compression rather than their typical VC-1 codec. The animation in this film is stunning with some of the most photorealistic animals I've seen yet. The production design is incredible and it's obvious that Zack Snyder's trademark eye for visuals is in full force. The HD encode is flawless with breathtaking detail and dimensionality. Contrast is strong and black levels are deep with excellent shadow detail and depth. You'd be hard pressed to find a better-looking HD presentation. The DTS-HD Master Audio mix is also first rate with incredible dynamic range and an immersive sound mix. Surround activity is a big part of this mix and really adds to the visuals on the screen. Bass response is impressive with deep extension and plenty of solid dynamics to punctuate the action on screen. The voice work is also outstanding and blends perfectly with this top-notch animation.
Warner has included some great extras here for the younger viewers. Like all their new releases you get a DVD and a digital copy of the film to go along with the Blu-ray. You also get a maximum movie mode that provides insight into the production, the world of owls and some interactive games, all while watching the film. Other extras include the bedtime story that was used in the beginning of the film plus a new Looney Tunes short. A music video, more info on owls and some galleries are also included.
Snyder brings the stylings of 300 to this teen focused animated feature and delivers some of the best CG animation I've seen to date. The story could have used a bit more fleshing out, but you'd be hard pressed to find a more visually captivating family film. Recommended.
LATEST VIDEO