Lara Croft Tomb Raider: The Cradle of Life
Angelina Jolie, Gerard Butler, Chris Barrie, Noah Taylor, Ciarn Hinds, Djimon Hounson. Directed by Jan de Bont. Aspect ratio: 16:9 (anamorphic). Dolby Digital 5.1 Surround (English, French). 117 minutes. 2003. Paramount 340724. PG-13. $29.99.
Picture ***
Sound *** 1/2
Film ** 1/2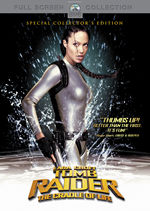 Two films and an adopted son later, Angelina Jolie returns as everyone's favorite action heroine, Lady Lara Croft, for the second installment of the Tomb Raider series. And she's built up enough muscle and momentum to fill nearly two hours with nonstop action and travels abroad.
In this much-anticipated sequel, Lara journeys across the globe in search of the legendary Pandora's Box, in which is said to reside the most unimaginable evil ever known. But in order to save the world, she must prevent the box from falling into the hands of a Nobel prize–winning mad scientist (Ciarn Hinds) who would attempt to unleash a plague deadly enough to wipe out all of humanity. This second Tomb Raider film is more intense and faster-paced than the first. Alongside Lady Croft, we dive through ancient Greek ruins, gallop through Croft Manor, motocross along the Great Wall of China, and, finally, endanger our lives in deepest Kenya.
When the film's predecessor, Lara Croft: Tomb Raider, was so well-received by hardcore fans of the video game, its producers saw the need for a sequel packed even more full of action scenes. While this might have driven up ticket sales, it makes Cradle of Life an exhausting experience. The action seems forced and contrived, the stunts over the top. Hitching a ride to the surface on a shark, for example, seems unlikely, even for our esteemed daredevil. However, it's exciting to see how much Angelina Jolie has progressed in her weaponry skills since she first strapped on the guns. For Cradle of Life, she expanded her training to learn Kali-Eskrima-Arnis, a style of fencing and stick-fighting that originated in the Philippines.
The video for this DVD release is good, although some images do appear fuzzy, which leads me to believe that the studio should have opted for a 2-disc release. The noticeable CGI and edge enhancement in some scenes are disappointing, considering what's possible today in terms of special effects. The excellent sound, however, makes up for the average level of the video. The bass is powerful, and the excellent soundtrack has put Dolby Digital 5.1 Surround to good use.
The special features are especially interesting to watch, and have a menu that's easy to navigate. They include deleted and alternate scenes, audio commentary by director Jan De Bont, music videos by Korn and the Davey Brothers, and five featurettes: Training, Vehicles, Weaponry, Scoring, and Visual Effects and Stunts.
I am such a big fan of Tomb Raider (both the film and the video game) that sometimes I secretly want to be Lara Croft. After all, who wouldn't want to travel the world in pursuit of an ancient obsession, while jumping off a skyscraper and riding a horse side-saddle? I'm crossing my fingers that the producers will jump on the trilogy bandwagon, with Peter Jackson and the Wachowski Brothers, to bring Lara back for a third time.—ACG
LATEST VIDEO