Jerry Maguire—Columbia Pictures (Blu-ray)
Video: 3.75/5
Audio: 4/5
Extras: 3.5/5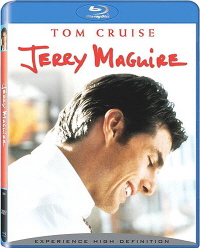 Tom Cruise plays a sports agent who suddenly discovers his scruples and promptly loses his job. But with the help of one loyal colleague and one outrageous client, "Jerry Maguire" learns that loving well is the best revenge.
I'm a huge fan of Cameron Crowe and this is definitely one of his more recent classics. The film jumpstarted Zellweger's career and launched Cuba into the stratosphere. It was also one of the more human performances by Cruise and showed that he didn't always have to be the macho superstar. A great classic to add to the shelf.
Sony continues to bring strong presentations to the Blu-ray market. This release is a great example of how Blu-ray can capture the look of film. The image has a slightly softer focus to it most of the time and marginally blown out whites. This is exactly how I remember it from the countless other times I've seen it. Colors are slightly stylized but never overdone and fine object detail is great.
The soundtrack is presented in Dolby TrueHD 5.1 and the standout is definitely the wide selection of tunes assembled for the film. Crowe films always have great soundtracks and this is no exception. The soundstage is pretty open considering the genre and I liked the rich atmosphere the surrounds provided. Dynamic range is a bit limited but at times it gets the job done.
Extras include a feature commentary with the principal cast members and the director along with quite a few production features. Deleted scenes and some funny dress rehearsal footage is also included. This title is BD-Live enabled allowing you to download some extras and trailers from Sony's website. A music video from the Boss is also included.
This has always been a catalog classic and I hope we see more Crowe films find their way to Blu-ray soon. Sony continues to do excellent work in the A/V department and this is an easy recommendation for fans of the film.
LATEST VIDEO