IHS: 2 Million 8K TVs Will Ship in 2020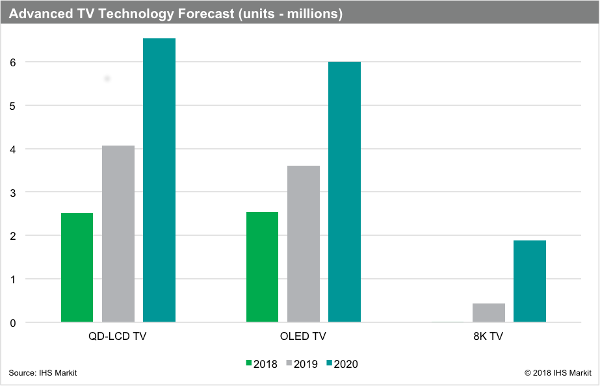 Following a year in which TV sales declined globally, TV shipments are forecast to grow 3.6% year over year in 2018, with an additional 1.4% growth in 2019, according to research released today by London-based IHS Markit.
Of the 226 million TVs expected to ship next year, more than half will be ultra-high-definition (UHD) models, the majority of which are 4K.
With projected unit sales of less than 20,000 units in 2018, sales of 8K TVs won't even register this year but they will become a blip on the screen in 2019 with projected sales of 430,000, rising to around 2 million in 2020. IHS said 8K sales will initially be centered on screens 60 inches and larger, with 65-inch TVs accounting for more than half of all sales.
Sales of OLED TVs will experience a healthy 40% increase in 2019, growing to 3.6 million units, according to IHS, as demand tracks industry production capacity. The 55-inch screen size will continue to dominate the category before transitioning to mostly 65-inch TVs by 2020 when production capacity optimized for larger screen sizes comes online.
Quantum dot LCD TV shipments are expected to exceed 4 million units in 2019, as prices drop and "transitional quantum-dot-equipped LCD TV models" are introduced into the market.