Hereafter—Warner Bros.
Video: 4/5
Audio: 4.5/5
Extras: 4/5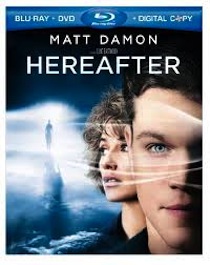 George is a blue-collar American with a special connection to the afterlife dating from his childhood. French journalist Marie has a near-death experience that shakes her reality. And when London schoolboy Marcus loses the person closest to him, he desperately needs answers. Each seeking the truth, their lives will intersect, forever changed by what they believe might - or must - exist in the hereafter.
The HD transfer doesn't disappoint with nice fine object detail and great contrast. The film was shot with anamorphic lenses so the imagery does have some obvious signature from the lenses used. Focus uniformity is the most obvious issue with slight blurring on the sides of the main object in the image. You also get some obvious pin cushioning effects. Fine film grain is preserved nicely though and black levels are deep with rich shadow detail. The DTS-HD Master Audio track is also quite good with a nice bottom end that adds a lot to the more intense moments of the film. Surrounds are used extensively with both directional cues and subtle ambiance. The balance of the mix is a bit front heavy, but this is never a distraction.
Warner has included a focus points feature that lets you go in and out of the film to see more about the production and the film's themes. This includes interviews with the principal cast and director. You also get a great feature on the career of Eastwood and his relationship over the years with Warner. Some trailers are also included along with a digital copy of the film and a DVD copy as well.
Hereafter presents some interesting themes but it never really goes anywhere with them. The ending is a bit abrupt and anticlimactic frankly. Still, Warner has put together a nice presentation with some solid extras making it an easy recommendation for fans of the film.
LATEST VIDEO