Harry Potter and the Deathly Hallows Part 1—Warner Bros.
Video: 4.5/5
Audio: 5/5
Extras: 4/5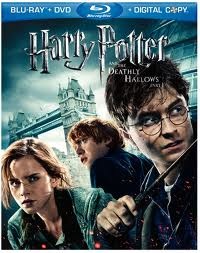 Part 1 begins as Harry, Ron and Hermione set out on their perilous mission to track down and destroy the Horcruxes - the keys to Voldemort's immortality. On their own and on the run, the three friends must now rely on one another more than ever. But there are Dark Forces in their midst that threaten to tear them apart.
All of the Harry Potter series has been presented well on Blu-ray and this is certainly no exception. Like the last few films before it, Harry Potter 7 is very dark and stylized. Contrast and shadow detail are attributes that need to be perfect and fortunately this Blu-ray nails it. Blacks are inky but never lose subtle details. Colors are muted to nearly nothing and there really aren't many bright moments in this somber chapter. Fine object detail is excellent most of the time but you can tell that some of the post-production visual effects soften up the image at times. This mainly manifests as a very subtle smearing with some motion. Most won't even see it unless they're looking hard for it. Dimensionality is superb with some sequences presenting a near 3D look (the opening Warner logo is a perfect example). The DTS-HD Master Audio mix is exemplary with outstanding use of the surround soundstage. There is so much going on in this mix with seamless pans from front to back and LOTS of discrete surround cues. The bottom end can be pretty powerful at times though not as system threatening as some of the other Potter films. I loved the film's score and how it affected the mood of the film and even the ambiance helps set the tone.
Warner has released this one as a 3-disc set that includes a DVD of the film. You also get a download code for a digital copy plus a code to redeem for a free ticket to the next and final film in the series. The feature disc includes Warner's Maximum Movie mode that delivers a video commentary with the cast and crew while you watch the movie via a split screen type interface. You also get Warner's focus points feature that will let you go in and out of the film to dig deeper into the production. These can also be accessed from the menus to view without disrupting the feature. The second disc was odd as it wasn't stamped with any type of disc art making it almost hard to figure out which way was up! On this disc there are some more production features plus a look at the new Universal theme park area devoted to the world of Harry Potter.
Another excellent addition to one of the best franchises out there. This is a pretty long movie and it certainly isn't upbeat, but it delivers the goods and stays true to the book. Warner delivers a spectacular A/V presentation making this a must own for fans of the series. Highly recommended!
LATEST VIDEO