Gone Baby Gone—Miramax Films (Blu-ray)
Video: 4.5/5
Audio: 4/5
Extras: 3/5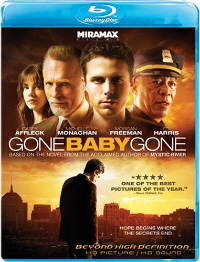 Ben Affleck stepped out of the limelight for quite some time before returning to the Hollywood scene with a brief role in Hollywoodland and now behind the camera for Gone Baby Gone. This is his directorial debut and I must say it is a very impressive one. This rather haunting film revolves around a young couple that is asked to help an investigation searching for a missing child in inner city Boston. Ben Affleck's brother, Casey, plays the lead private detective and delivers his second outstanding performance of the year (he's nominated for Best Supporting Actor for his role as Robert Ford). The supporting cast is excellent as well, especially Ed Harris. There are some nice twists in the story and some difficult moral questions raised. This is a film that is affecting in multiple ways and will probably have you questioning your own ideas of what is right and what is wrong. What I do know is, Affleck has shown that he can already pen a great screenplay (he also co-wrote the screenplay here) but now he's shown he can direct a great film as well. Highly recommended.
The Blu-ray presentation is a strong one. The 1.85:1 HD transfer has exceptional detail and excellent contrast. I was impressed with the depth of image the transfer offered, but I did notice a bit of softness with some longer shots. Colors are natural with no stylistic tinkering but contrast is boosted slightly giving the image a stark appearance at times. Fine film grain is reproduced beautifully and fine object detail is quite good throughout most of the film. Compression is never an issue and I didn't see any digital artifacting in the image.
The full 24/48 resolution PCM soundtrack is an excellent balance of mood and atmosphere. The film's score is balanced perfectly with the rest of the track and really draws you in to the film's imagery. While not an aggressive soundtrack the dynamics are quite impressive at times. There are a few moments when the action heats up a bit and gunshots will have you jump more than once. Bass extension is decent but the focus of this mix is ambience and atmosphere, and it excels at both. I did notice some harshness in the dialogue from time to time, but nothing too distracting.
There are a few solid extras. The highlight is probably the extended ending, which I liked but still felt the original ending was the better fit. Some deleted scenes are included with an optional commentary and like most deleted scenes it was easy to see why they were cut from the film. There are some production features that go into casting the film and the location, which is close to home for the director and star. Rounding out the package is a feature commentary with director Ben Affleck and co-writer Aaron Stockard.
A solid film with great performances all around is highlighted with a solid A/V presentation. I'm surprised this one was overlooked at this year's Oscars. Don't make the same mistake they did.
LATEST VIDEO