Forgetting Sarah Marshall—Universal (Blu-ray)
Video: 2.5/5
Audio: 3.5/5
Extras: 4/5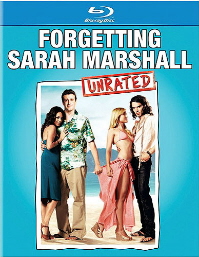 Struggling musician Peter Bretter has spent six years idolizing his girlfriend, television star Sarah Marshall. He's the guy left holding her purse in paparazzi photos and accidentally omitted from acceptance award speeches. But his world is rocked when she dumps him and Peter finds himself alone. After an unsuccessful bout of womanizing and an on-the-job nervous breakdown, he sees that not having Sarah may just ruin his life. To clear his head, Peter takes an impulsive trip to Oahu, where he is confronted by his worst nightmare: his ex and her tragically hip new British-rocker boyfriend, Aldous, are sharing his hotel. But as he torments himself with the reality of Sarah's new life, he finds relief in a flirtation with Rachel, a beautiful resort employee whose laid-back approach tempts him to rejoin the world.
Recently I reviewed Knocked Up and mentioned that Apatow seems to do a better job with his sex comedies and romantic flings than his all out comedy attempts. This is no exception. I loved the lines in this film and the unexpected twist of turning the relationship focus on the ditched male instead of the normal female lead. The sex comedy is pretty raunchy at times but manages to stay tasteful enough to make your belly hurt from laughing. If your partner doesn't mind a dirty line or two, this is a fun date night laugh.
I had the opportunity to see this one in D-Cinema and I remember walking away feeling like I had just seen a dated film print. Well it seems that was the intended look because that is exactly what this Blu-ray looks like too. The image has a really soft appearance to it, so much so that things occasionally look out of focus. Even fine detail and close ups are a lot softer than I'm used to from a newer HD release. Colors also have a washed out look at times adding to the somewhat smeared appearance. I don't know why the filmmakers went with this style, but it is what it is. Thankfully depth is reasonably good as is contrast for the most part. Just don't expect a great looking HD release.
Universal continues to favor the DTS flavor of lossless soundtracks with this Master Audio 5.1 mix. The audio held up better than the video side and overall this is a fun mix of score and natural ambiance. Dialogue sounds very natural throughout and the sense of environment is convincing. Dynamic range is decent but this isn't an aggressive mix so don't expect too much in this department.
Universal has included both cuts of this film along with quite an extensive library of extra features. This is a BD-Live enabled title giving you access to previews and some supplements on Universal's HD site. U-Control is also fully utilized with picture-in-picture features for a visual commentary with the cast and crew, and a look behind the scenes while the film is playing. Another interesting feature is a karaoke for the film's hilarious original songs. Universal is definitely taking the next generation interactivity seriously! Traditional supplements include lots of deleted scenes, a gag reel, and focus features on some of the funnier moments on the film. You also get a full feature commentary and some additional Crime Scene moments.
Despite the rather poor video presentation, this was a great sex comedy. Universal has done an amazing job with the supplemental package and continues to set the bar for interactivity with Blu-ray. Highly recommended!

SPONSORED VIDEO