Disney's A Christmas Carol—Walt Disney Pictures (Blu-ray)
Video: 4.5/5
Audio: 5/5
Extras: 4/5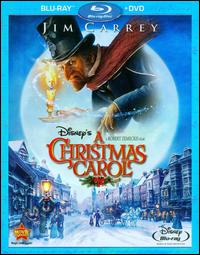 When three ghosts take penny-pinching Scrooge on an eye-opening journey, he discovers the true meaning of Christmas - but he must act on it before it's too late.
Disney always serves up some solid animation on Blu-ray and this is definitely no exception. Dimensionality is incredible with this release with plenty of depth and detail. Contrast levels are impressive with inky blacks. Colors are slightly muted to fit the tone of the film but come alive at times with rich reds. I didn't see any banding despite some rather difficult sequences. The soundtrack is delivered in blistering 5.1 DTS-HD Master Audio. Dynamic range is impressive and there are some system threatening sequences in this one. Disney definitely goes a little darker with this story and the low bass punctuates the ominous tone of the story through most of the film. Surround channels are used aggressively with nice panning effects and plenty of envelopment.
For this review I received the 2-disc set which also includes a DVD of the film. On the Blu-ray there is a pretty cool picture-in-picture feature that shows the motion capture used to make the characters while you watch the film. You also get a countdown to Christmas feature and some on-set features that give you more insight into the creation of the film and the people involved.
I was surprised that Disney delivered a darker version of this story than we typically see from the studio. It is still a great rendition though and the motion capture compliments the animation nicely. The presentation is outstanding making this a fitting recommendation for the holiday season.
LATEST VIDEO