Clerks II—The Weinstein Company (Blu-ray)
Video: 4/5
Audio: 4.25/5
Extras: 4/5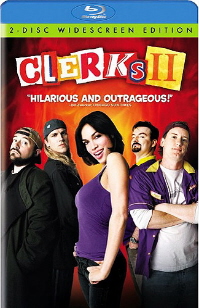 Ten years after the original, slacker heroes Dante and Randal have become "funployees" at Moby's fast food. In addition to offending customers and debating anything and everything, their responsibilities now include ragging on their uber-nerd co-worker and teasing their sexy manager. But when Dante announces his plan to leave New Jersey, Randal plots a shocking and hysterical going-away party that will alter their lives forever.
Kevin Smith brings the dynamic duo back again, both inside the store and out. Clerks II is a more mature follow-up to the original low budget cult favorite, but it may be even more outrageous than the first. Production budget has definitely increased, but so has the language and shock value. Some of the moments in this film had me crying though, which is exactly what I want from a raunchy hard-R comedy.
Not much has changed from the HD DVD release to this one. The image has a natural look to it with nice dimensionality and depth. Fine film grain is preserved beautifully throughout, and I was really pleased with the detail of the video. My only complaint was the occasional pulsing I saw in whites in some of the backgrounds.
The same Dolby TrueHD 5.1 soundtrack from the HD DVD makes it to the Blu-ray release. Since this is a comedy, you really can't expect much in the dynamics department, but I think Smith did a great job with the soundtrack's musical selections. There are the moments when the soundstage really opens up, and you get a bit more envelopment out of the mix. Ambience is also quite good throughout the film, which is one of the things I find lacking with a lot of soundtracks lately.
Lots of extras on this two-disc Blu-ray set. You'll find the same stuff that was on the original HD DVD release including multiple feature commentaries and deleted scenes as well as a feature length documentary on making the film, bloopers and a great set of video diaries from the set. This title is also BD-Live enabled.
This was a great follow up to Smith's first feature production and it improves upon the series in many ways. The presentation here is solid and there are plenty of supplements for the film geek. Highly recommended.
LATEST VIDEO