Children of the Corn—Anchor Bay (Blu-ray)
Video: 4/5
Audio: 4/5
Extras: 3.5/5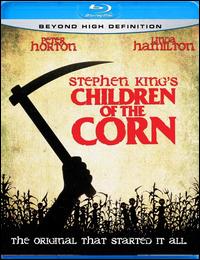 Something unspeakable is alive in the cornfields of rural Gatlin, Nebraska, where a boy preacher has led the village's children in a slaughter of all the adults. But when a traveling couple stumble across this deserted town, they become prisoners of child madman Isaac, his henchman Malachai and their kid cult of unholy believers. Judgment Day has arrived: Will the blood of the "outlanders" flow in sacrifice to their god or is the final fury of "He Who Walks Behind The Rows" coming for them all?
One of the early Stephen King adaptations and actually one of the better ones for following the actual book. Believe it or not this was the first real horror movie I ever saw as a child. As a young first grader, I caught this one at a sleepover along with one of the early Friday the 13th movies in a double feature on late night cable. A few hours later a phone call to my parents was needed as well as a ride home. And so began my nightmare years (and many more horror movies for some reason). While not nearly as chilling to my psyche now, this one still delivers the goods as a middle of the pack horror flick.
This one looks surprisingly good on Blu-ray. This wasn't a major production but the film element seems to have held up quite nicely over the years. Detail and dimension are nearly on par with more recent films and color and contrast hold up nicely. Some of the effects shots look soft and dated, but these are few and far between. The image has a wonderful sense of depth and dimension. If only all catalog classics could look this good.
The soundtrack is presented in Dolby TrueHD 5.1 and stands up really well too. The mix has a very open spatial quality with lots of information from the surrounds and a nice wide front soundstage. Dialogue sounds natural enough and imaging throughout the room is solid. The film's score has a dated feel and can be a bit forward but I didn't find it too distracting.
Extras include a feature audio commentary with the film's director along with several interviews with cast and crew. You also get some retrospective looks at the production and the story. The trailer and some art galleries are also included.
This is a great presentation of a horror cult classic. While this isn't one of my favorites from the genre, it still holds up pretty well for an early King adaptation. The Blu-ray presentation was far better than expected making it an easy recommendation for fans of the film and genre alike.
LATEST VIDEO