Babel—Paramount (HD DVD & Blu-ray)
Video: 4
Audio: 5
Extras: 1
The biblical Babel is the place where God, frustrated yet again by man's hubris and sin, chooses to scatter a united people and confuse their tongues so that they can no longer understand one another. It marks our division. Alejandro Gonzlez Irritu's Babel serves to remind us of our commonality; despite those differences of language, culture, and geography, we are inherently united in our humanity—in the love, fear, jealousy, loneliness, and hope that drive us. The story begins when two Moroccans accidentally shoot an American tourist and set off a series of events that will reach as far as Mexico and Japan.
I confess, I'm growing a bit weary of the storytelling method that Irritu and screenwriter Guillermo Arriaga employ here, the telling of seemingly disparate stories that ultimately come together to reinforce the theme of connectedness. That said, Irritu does put his unique stamp on this film. While movies like Traffic, Syriana, and Go move at a more frenetic pace and are characterized by lots of dialogue and scene transitions, Babel rolls at a slow simmer, pulling you into the emotional core of each vignette and then jolting you back out again.
That pacing affords time to take in the beautiful cinematography and the wonderful sound and music editing, all of which are well served by the DVD. The film is a little grainy, so the 1.85:1 anamorphic video isn't razor sharp, but it is clean, with natural colors and plenty of contrasts to challenge your TV. The Dolby Digital 5.1 soundtrack is quite impressive, jumping ably between quiet dialogue and pulsing music and making excellent use of the complete soundfield in an organic way.
The film is also available on Blu-ray and HD DVD; both transfers are very clean, with some improvement in detail over the DVD version, although the graininess keeps the overall image from being as striking as I've seen with other movies. The HD DVD ups the audio quotient with a Dolby Digital Plus soundtrack.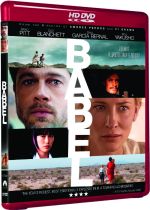 My only complaint is the lack of any meaningful bonus content. Perhaps Paramount was in a rush to get these discs on the shelf before the Oscars, or maybe they just figured people would buy the movie anyhow. You might want to start with a rental and see if the film speaks to you as clearly as it did me.
HD DVD: Video 4, Audio 5, Extras 1
Blu-ray: Video 4, Audio 4, Extras 1