Anton Chekov's The Duel—Music Box Films
Video: 3.5/5
Audio: 3/5
Extras: 0/5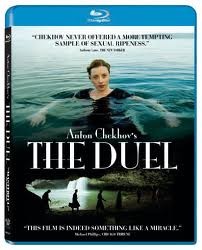 Laevsky clings to ephemeral pleasures such as drinking, gambling, and romancing his alluring mistress, Nadya, in the Russian provinces -- putting all of the said pursuits far ahead of disciplined action -- but he soon grows listless and disenchanted with Nadya, falls into financial ruin, and ultimately must fight Von Koren in a vicious duel thanks to Nadya's sexual liaisons with the man.
Music Box delivers a pretty solid HD presentation for this gorgeously lensed period piece. The locales offer some breathtaking backdrops, though at times the footage seems a bit softer than we've become accustomed to on the format. Close ups reveal adequate detail with nice skin textures but medium shots soften up quickly. Colors are natural with no obvious signs of tinkering but contrast levels appear slightly washed out lending to a rather flat look at times. While I really enjoyed the canvas, the transfer seems a bit soft. The audio presentation is what one would expect from the genre. Subtle ambiance is there in the soundstage but this is largely a front heavy mix. Dialogue is balanced nicely though with very natural tonal balance and timbre. Surrounds are largely unused except for the occasional atmospheric effect.
No extras on this one but you do get some trailers for other Music Box offerings.
While I'm typically a fan of period drama I didn't find much to like here. The cinematography was solid, though the presentation took away a bit of it with its obvious softness. The story doesn't do much to help the experience as a whole. The characters aren't that likeable and with no explanation of how and why for the situations at hand, you find yourself losing interest quickly.
LATEST VIDEO