American Graffiti—Universal
Video: 4/5
Audio: 3.5/5
Extras: 2.5/5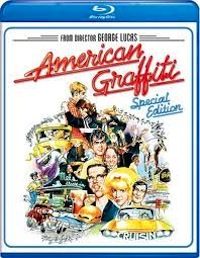 From director George Lucas and producer Francis Ford Coppola, "American Graffiti" is a classic coming-of-age story set against the 1960s backdrop of hot rods, drive-ins and rock n' roll. Starring Ron Howard, Richard Dreyfuss, Harrison Ford, Cindy Williams, Mackenzie Phillips and Suzanne Somers in their breakout roles, this nostalgic look back follows a group of teenagers as they cruise the streets on their last summer night before college.
American Graffiti comes to Blu-ray with a solid HD presentation that benefits from some restoration work that was done awhile back for the original DVD special edition release. The print seems to be in good shape with only some minor wear and tear and rarely any distracting artifacts. Colors have a good sense of balance and detail is quite good in close ups and even medium shots. Longer shots can look overly soft at times though. I didn't notice any artificial smearing in detail or signs of enhancement giving the image a pleasant film-like look throughout. The soundtrack does benefit from the new lossless encoding and the music has never sounded better. Dynamic range is still pretty limited given the film's age, but the surround mix does a good job of livening up the soundstage. The balance of the mix is a bit dialogue heavy at times, but the surrounds do get some occasional material to play with.
Extras include a feature commentary with director George Lucas plus most of the extras that were released with the special edition DVD. You get production features, interviews and some retrospectives on the film and the culture the film covers. Of course you also get the fancy Blu-ray interactive features including BD-Live access and more.
This has always been a classic and I'm glad we're finally seeing it on Blu-ray. The presentation is solid, though the video probably could have used a more polished refresh given the level of restoration we've been seeing from other catalog titles. Still fans probably won't be disappointed. Recommended.
LATEST VIDEO