The Huntsman: Winter's War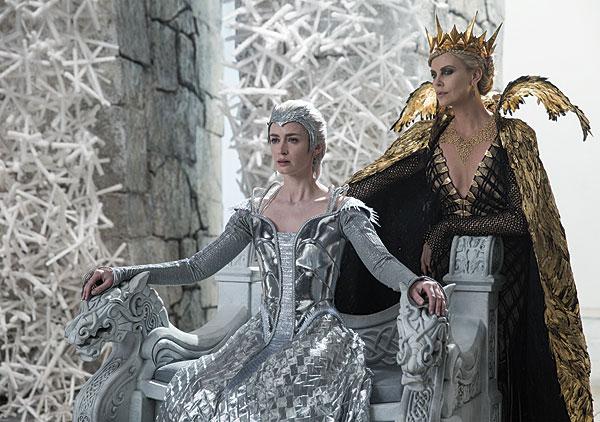 I wasn't a big fan of Snow White and the Huntsman mainly due to the wooden performance from Kristen Stewart. Thankfully, she's not in this one, and the new faces of Blunt and Jessica Chastain are a welcome sight. The storytelling takes an interesting twist in that this is both a prequel and a sequel at the same time as we learn about Eric and Sara's past and what drove Eric to Snow White in the first film. The story then turns to the sequel as Eric fights to right past wrongs.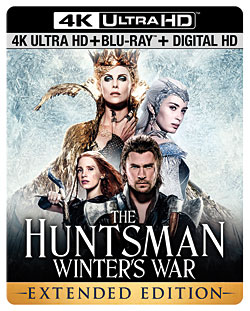 The production value is through the roof, and the elaborate sets and costumes look great in 4K, even though it's sourced from a 2K digital intermediate. What really stands out about the presentation are the shades of gray in the darker scenes. Compared with the Blu-ray, such instances show much greater depth and detail versus the 1080p rendition. Furthermore, colors have a bit more pop, and fleshtones look more natural.
The DTS:X audio track is a crowd pleaser and features plenty of discrete effects to envelop the room and put the viewers in the middle of the action. Raindrops from above will have you reaching for your umbrella, and when the thunder claps, you can feel it in your bones due to the powerful LFE. Directional cues are used to great effect, with voices placed in various corners of the room.
The UHD disc includes both the theatrical and extended edition of the film with the only supplement being a director's commentary. The included Blu-ray has the rest of the disc-based bonus features including deleted scenes, a gag real, and five making-of featurettes. There's also an UltraViolet Digital Copy.
My biggest issue with the production is that I never really connected with any of the characters, but I like all of them as actors, so that kept me engaged enough with the middling story to keep me entertained. While not great cinema, it's worth a rental.
Blu-Ray
Studio: Universal 2016
Aspect Ratio: 2.39:1
Audio Format: DTS:X/DTS-HD Master Audio 7.1 core
Length: 120 mins.
MPAA Rating: PG-13
Director: Cedric Nicolas-Troyan
Starring: Chris Hemsworth, Charlize Theron, Emily Blunt
Charlize Theron is back as the evil Queen Ravenna, who betrays her sister Freya (Emily Blunt) with an unthinkable act of cruelty leading to her path down the dark side of magic; like Elsa from Frozen, she possesses an icy power. She heads north to train an army in order to conquer the realm, with one caveat: They are forbidden to fall in love, which is exactly what happens to Eric and Sara, leading to Freya going postal on her most treasured Huntsmen.