Human Planet: The Complete Series (Blu-ray Disc)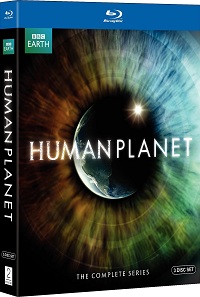 From Greenland to Mongolia, Cambodia to Kenya, people are living by their wits, braving the elements, seizing opportunities, and overcoming huge obstacles to survive and thrive. Whether it's a line of woman and children who use star and sand dune patterns to traverse the Sahara in order to trade their wares, or dozens of young Pa-aling fishermen who breathe air through a tangled web of pipes attached to a diesel engine, humans find a way to endure.
BBC Earth has quite a pedigree with hit documentaries such as Life, Planet Earth, and Blue Planet. They've taken us all around the globe and given us a better understanding of what a marvelous place we live. In Human Planet, they weave 80 different stories over eight episodes (Oceans, Deserts, Arctic, Jungles, Mountains, Grasslands, Rivers, and Cities) to show humanity's uncanny ability to adapt and live in every corner of our diverse world.
Video Highlights

VC-1/1080i encode on a BD-50 disc
Stunning detail
Outstanding color saturation
Occasional banding in some underwater sequences
Fabulous fine object detail
Audio Highlights

DTS-HD MA 5.1 soundtrack
Front-loaded presentation
Occasionally strong LFE
Credible environmental ambience
Other than the occasional banding in underwater sequences during the "Oceans" episode, this is an outstanding video presentation. Color saturation is phenomenal, and the image features amazing fine detail. The audio track is serviceable and will surprise you on a few occasions with some strong LFE and environmental noise.
Bonus Materials

Three Featurettes

Behind the Lens
Fez
Volcano

BD-Live Streaming Featurette
If you're a fan of documentaries, BBC delivers another fantastic look at the world we live in, and it deserves a place in your collection. Unless you're well-healed enough to travel 52 weeks a year, this is a great way to experience other cultures. Highly recommended.
Release Date: April 26, 2011
Studio: BBC
Movie: 9/10
Picture: 9/10
Sound: 8/10

Review System
Source
Oppo BDP-93 Blu-ray player

Display
JVC DLA-RS40 projector
Stewart FireHawk screen (76.5" wide, 16:9)
Electronics
Integra DTC-80.2 pre/pro
Anthem PVA-7 power amplifier
Belkin PVA-PF60 power conditioner
Speakers
M&K S-150s (L, C, R)
M&K SS-150s (LS, RS, SBL, SBR)
SVS PC-Ultra subwoofer
Cables
Monoprice HDMI cables (source to pre/pro)
Best Deal analog-audio cables
PureLink HDC Fiber Optic HDMI Cable System (15 meters) from pre/pro to projector

Acoustical treatments from GIK Acoustics