HT's Inaugural LCD Face Off Sony BRAVIA KDL-40S2000 LCD HDTV
Sony BRAVIA KDL-40S2000 LCD HDTV
Look on the bright side.
In our January 2006 issue, we reviewed Sony's top-of-the-line LCD HDTV, the KDL-V40XBR1, retailing for $3,500. Since then, the company has introduced a slightly less expensive BRAVIA lineup with LCDs from 26 to 46 inches, and we were curious to see how the new 40-inch KDL-40S2000 would compare with its higher-end brother.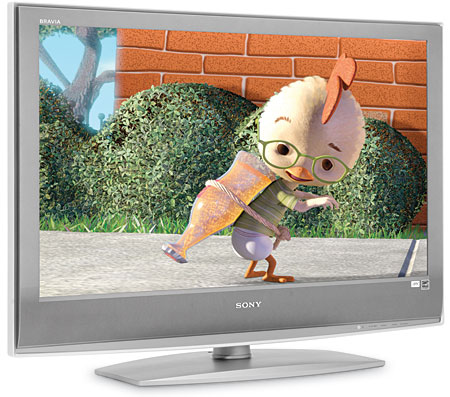 The Sony KDL-40S2000 is even brighter than its predecessor—and was the brightest TV in the Face Off. At its lowest backlight setting, it still puts out almost 80 foot-lamberts, so you can guess which TV we used as the base to match light output. Theoretically, this should have given Sony an advantage, as it achieved its best contrast ratio at its lower backlight settings. Compared with other LCDs I've reviewed in the past, the Sony's 0.066-ft-L black level was really quite good; unfortunately, in this test, it went up against two TVs that had some of the best black levels we've seen in LCD flat panels. So the KDL-40S2000 was destined to earn comments like "less saturated" and "washed out" from our participants.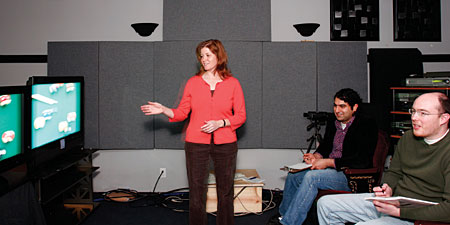 This goes to show the importance of a good black level, especially in a home theater environment. This TV is better suited for a daytime viewing environment. When I turned on the lights and set the backlight for maximum output, Geoffrey and John felt that the Sony was too bright and would cause eye fatigue, but they agreed that a slightly reduced setting would produce a good image for viewing in a bright living room.

The KDL-40S2000 did the best job with 3:2 pickup in our Gladiator test, and its color points are good. The Sony's overall color must have looked fine to our panelists, as no one felt the need to comment on it. Before calibration, its color temperature runs somewhat warm across the range, which I felt gave skintones a reddish hue. After calibration, it tracks very close to 6,500 Kelvin across the board. (Strangely, you can calibrate this TV but not the higher-end XBR model.)
All three TVs did a respectable job with light-to-dark transitions, so my Chicago test scene wasn't as revealing as it can be. I felt that the Sony was the noisiest of the three, while John commented that it had the least noise. That's how close the three competitors were. As for standard LCD issues like viewing angle and motion blur, the Sony's performance was average—better than the Sharp TV but not as good as the Hitachi TV.
As I mentioned, each TV had one issue that most influenced its ranking. In the Sony's case, it was detail. At some point, every participant commented on the lack of detail in both DVD and HDTV material, compared with the other sets. Geoffrey went so far as to say that the picture "almost looked blurry" with DVDs. In setting up this TV, I had to turn the sharpness control almost all the way down in order to remove edge enhancement. Turning it up may have created the illusion of more detail, but that just isn't how we do things around here.
The Sony certainly wins in the value department, offering the highest inch-to-dollar ratio. Its connection panel is limited (only one HDMI input), but it does have some nice features, like automatic aspect-ratio adjustment, a light sensor to automatically adjust the backlight, and the ability to apply picture adjustments to multiple inputs. Despite its value, our panelists felts that detail and black level were better elsewhere, which landed the KDL-40S2000 in third place. It's worth noting that the higher-end KDL-V40XBR1 is still available for just $500 more than this TV.
Highlights
• A good fit for a bright room
• Best value in the test
• Highest inch-to-dollar ratio in the Face Off
LATEST VIDEO