Hsu Research VTF-15H MK2 and VTF-3 MK5 HP Subwoofer Reviews Page 2
It turns out that the best place for the VTF-15H MK2 (and eventually the VTF-3 MK5 HP) was directly behind my listening position. However, that created other problems: It was right in the middle of a major thoroughfare, which was, in my wife's own words, "completely unacceptable." So in order to find an alternate location, we reverted to that tried-and-true method: We hoisted the sub up to ear level at the main listening spot, cued up some bass-intensive music ("Sleep Like a Child" by Joss Stone), and proceeded to crawl around the room as we listened.
More bad news: The second-best position was in another walkway right in front of my equipment rack. Fortunately, the third-best position (which passed the WAF test and didn't interrupt natural traffic patterns) was along the right wall, slightly behind the couch. (This, though, was at the expense of the DAF: My dog's crate had to be moved.) The gain in that position was slightly lower than that of the two previously mentioned spots, but the resulting bass response was smooth and integrated (and the sub's placement didn't get me evicted).
At this point, it was time to break out the sound meter and calibrate the sub level to match my M&K Sound speaker system, after which I was ready to do some initial listening. Dr. Hsu hung out for about another hour (while our wives chatted about WAFs and other matters in the adjoining room), as we listened to various music tracks and some sequences from two movies that have great bass, Prome- theus and the reboot of Star Trek.
It's All About the Bass
All of my testing of both subs was done with each sub located in the same position, using multiple port options and Q settings. The setup combination that worked best in my particular room was with one port open, EQ1, and a Q setting of 0.7 for movies, which comprise the majority of my personal listening.
I love Pixar films not only for their entertainment value but also for their stellar audio and video on Blu-ray. One of the studio's most popular films, Finding Nemo, also contains some of the deepest, most impactful bass I've found on any disc. While the movie was loading, the splash screen of the Disney castle and fireworks got my attention from the outset, with explosive tight bass that reminded me of the live fireworks show I've seen countless times at the park—yes, it was that realistic. Once I bypassed the endless stream of trailers, I immediately jumped to "the Darla scene" (where she taps on the fish tank). Holy window rattling, Batman! At –15 from reference, the response of this pounding bass was mind-blowing, and neither of the Hsu subs broke a sweat. In fact, when I ran into my neighbor later that afternoon, he grinned and quipped, "Reviewing a new subwoofer, eh?" Our houses are about 40 feet apart—enough said!
Keeping with the Pixar theme, I cued up the opening of Toy Story and was just as impressed when the title rumbled onto the screen and Buzz broke the sound barrier entering the planet's atmosphere. When he's eventually dispatched by Zurg, the explosion was tight and deep and provided plenty of crisp punch.
Peter Jackson's The Hobbit: The Desolation of Smaug is a definite improvement over the first film in the trilogy, and the DTS-HD Master Audio 7.1 soundtrack is to die for, especially in the protracted scene of Bilbo confronting Smaug at Erebor. Whether it's Smaug's raspy and deep voice, the impact of his footfalls, or the movement of air around his gigantic wings, both subs were able to produce the low-frequency effects without bottoming out at insanely high listening levels. While the VTF-15H MK 2 went slightly deeper than the VTF-3 MK5 HP, you'd be hard-pressed to pick one over the other in a blind test on movies.
Of the two subs, the VTF-15H MK2 delivered slightly tighter bass response in my room. On the Blu-ray of the Eagles' Farewell 1 Tour: Live from Melbourne, Don Henley's kick drum on "Life's Been Good" was as tight as could be on this sub, whereas the VTF-3 MK5 HP didn't stop as crisply with each beat. I went back and forth between the two subs multiple times, and I even tried repositioning the VTF-3 MK5 a few inches each way to see if placement was the culprit, but it consistently delivered the same result. It didn't sound bad by any stretch, just slightly different.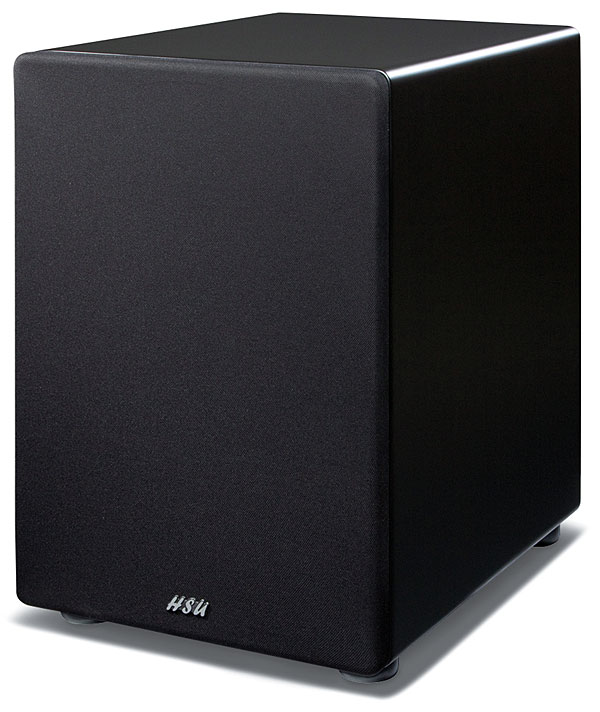 I experienced the same phenomenon with my FLAC version of N.W.A's "Express Yourself" from Straight Outta Compton. The track features a consistent and ominous pulsing rhythm that pummels in the spectrum below 40 hertz, and once again the performance of the VTF-15H MK2 was taut and crisp, whereas the other sub's bass response hung in the air a split second longer. Granted, if I didn't have the two subs to listen to back to back, I probably wouldn't have noticed this. Despite their slight sonic differences, both subs integrated seamlessly with my M&K S-150 satellite speakers (with my Marantz pre/pro set to an 80-Hz crossover).
Conclusion
In the past year, I've had a lot of subwoofers in my room, and all of them have had their strong points. It just goes to show you how competitive the subwoofer marketplace is, and that there's outstanding value to be found whether you want to spend $500 or $3,500. Dr. Hsu likes to say that buying one of his subs is like buying many different subs for the price of one. You can try all five setup options and pick the one you like best for your room—something you can't say about most of the competition. I'm giving both subs a Top Pick for their performance, and I'm not letting the VTF-15H MK2 leave my home; I'll pair it with my SVS PC-Ultra. My wife protested that we don't need two subwoofers. But after I explained that the Hsu sub is "just right" for our room, she reluctantly complied with my request. Man, I love this hobby!