Home Theater Planning: Walk Back the Design, Part 2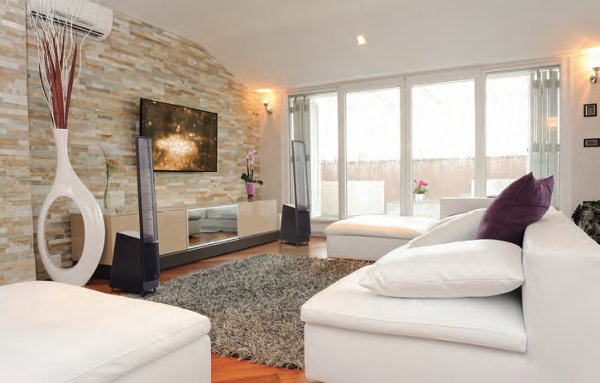 In my
last blog
, I discussed the many clients I meet with who have no idea how to begin the design process when planning a new home theater or media room installation. Instead of focusing on specific technologies and performance, I have found it best in these cases to work the design process back from how they would like the room to look after the installation is completed.
The two biggest variables in a home theater/media room design are the video display and speakers. In Walk Back the Design, Part 1, I focused on selecting displays. As screen size often dictates speaker selection, these video/audio discussions go hand-in-hand.
This time out I'm going to tackle the audio portion and the options I like to walk the customer through before suggesting one design approach over another.
Front Speaker Style
Along with the TV or projector/screen combination, the system's front speakers are likely to be a visual focal point in the room, so there's no point in discussing other audio parameters until you settle on the front speakers. Fortunately, there are options that can appeal to nearly any design taste.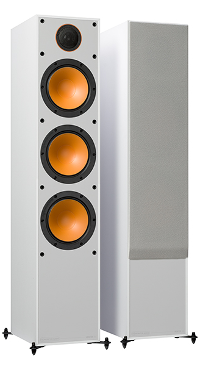 Floorstanding Towers – A tower speaker may be the least conservative design choice, but in a large room or dedicated space — or if the customer is really interested in performance — it's always the best option. Depending on the decorating style, some tower speakers can complement a room's look. One example: I had a friend in California whose music listening room contained a leather couch facing a single (original) Warhol painting on the wall flanked by MartinLogan electrostatic towers and two large McIntosh monoblock amplifiers. The whole design was so modern and cool, it completely defined the space.
Speakers with gloss-white finishes can also be a visually striking design option in certain environments. Such models are available from companies including KEF, Monitor Audio, and Paradigm.
Bookshelf Monitors – Many of the installs done by my company are in family rooms with a central fireplace flanked by cabinetry with bookshelves. These shelves can be the perfect location for main left/right speakers, which can be ideally positioned and blended with the décor. There are various design, style, performance, and budget options available from every manufacturer. Triad, for example, makes bookshelf speakers with a vast array of woodgrains and finishes, including custom paint-matched ones.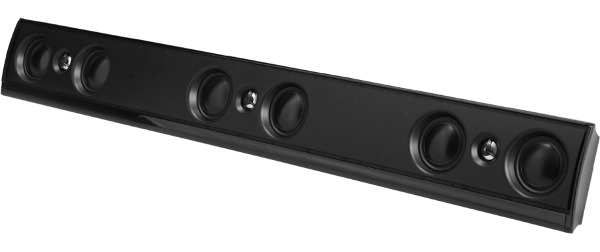 On-Wall Speakers – When working with an open wall, or if bookshelf speakers are simply out of the question, on-wall speakers are another go-to option. These thin-profile designs are barely thicker than a mounted flat-panel set and can be installed around it. My company normally likes to offset the left and right speakers from the screen for better stereo separation, but they can also be butted up next to it if space is an issue. For most installations, we will recommend a matching on-wall center speaker with a wall-mounted TV regardless of the left/right speaker style.
Another great solution when space is at a premium is a passive on-wall LCR soundbar. Passive bars differ from active soundbars that provide built-in processing and amplification in that they pack three speakers into a single chassis and use standard speaker wiring from an AV receiver (one wire run for each channel). Two good examples of passive LCR soundbars: Definitive Technology's Mythos XTR-SSA3 and Origin Acoustics' SB3.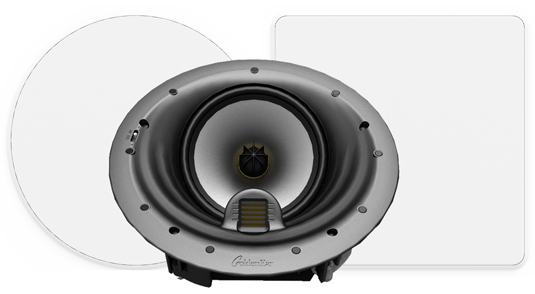 In-Wall/In-Ceiling Speakers
– The most décor-friendly speakers by far are recessed, in-wall and in-ceiling designs that install flush with the room's drywall and can be painted to match the wall or ceiling color. When using an acoustically transparent screen with a projector, in-wall models are a particularly good choice since they let you install the speakers behind the screen as they do in a commercial theater.
There are some practical reasons that make in-wall speakers a less-than-optimal choice, however. In a retrofit install, for example, wall stud locations can make it difficult to install the left and right speakers symmetrically. (This is especially true with the center-channel speaker, where getting it centered below the display is a total crapshoot at best.) And when cabinetry is already in place, many homeowners don't want to abandon that space for an in-wall speaker.
While in-ceiling speaker installations are often an option, depending on the ceiling height and listening position, performance can be notably less impressive than what you get with tower, bookshelf, or on-wall/in-wall speakers. That's because the driver arrays in most in-ceiling speakers point straight down as opposed to firing sound at the listener. Fortunately, there are specialty high-performance models like SpeakerCraft's AIM Series 2 and GoldenEar Technology's Invisa HTR 7000 that allow you to point their drivers toward the listening position.
The Author
For the past 20 years, John Sciacca has worked as a custom installer in South Carolina. In his free time, he enjoys drinking craft beer and watching movies on his 7.2.6 surround system.