Hisense Laser TV 4K DLP Projector Review Test Bench
Test Bench
Full-On/Full-Off Contrast Ratio: 1,354:1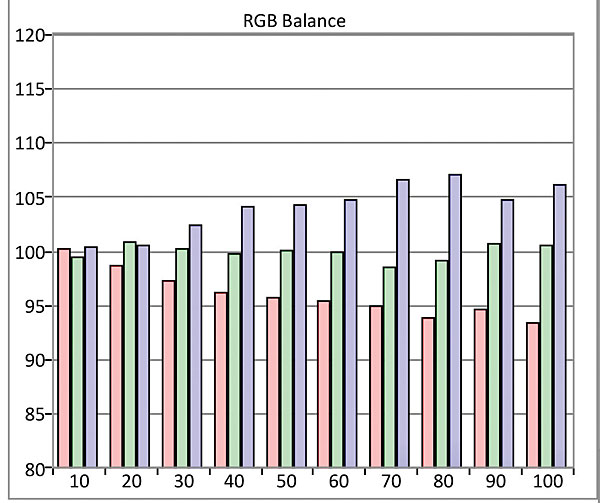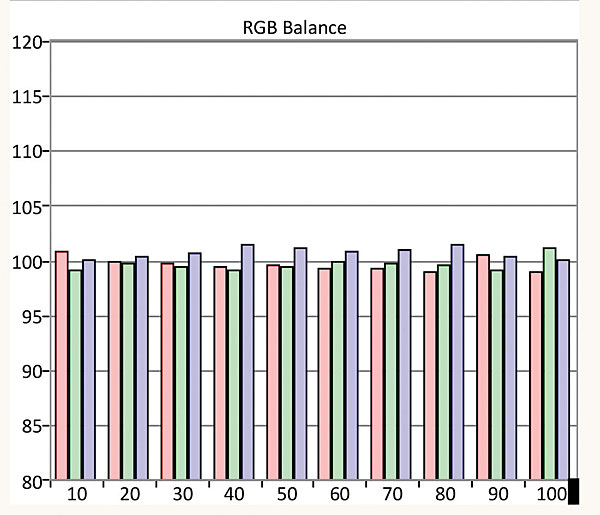 Pre-calibration measurements were made with the Hisense Laser TV's Theater preset active. Post-calibration measurements were made in the same mode. All measurements were made using the 100-inch-diagonal Screen Innovations Short Throw screen that's included with the projector. HD/SDR
After calibration in Theater mode, the projector's black level measured 0.020 ft-L and peak white 27.08 ft-L for a contrast ratio of 1,354:1. An Advanced Picture Options menu provides vari- ous Active Contrast presets, but none of these had any effect on picture contrast; instead, they appeared to alter picture gamma with negative results. Maximum light output was measured at 31.76 ft-L with contrast set to maximum in Vivid mode.
Before calibration in Theater mode with Low color temperature selected, the Laser TV displayed mostly good grayscale tracking, with the Delta Es averaging out to 3.2. Calibration in the User mode improved that average to 1.2, with a high of 1.8 at 10 percent brightness. (Delta E is a figure of merit that indicates how closely a display adheres to the Rec. 709 HD color standard. Experts generally agree that levels below 3 are visibly indistinguishable from perfect color tracking.)
With the Theater mode's default settings active, the projector's measured color points were somewhat inaccurate, with the Delta E averaging out to 6.3. Post-calibration, the Delta E for color points averaged out to 2.3— a notable improvement.
With the 1 Gamma preset selected, the Delta E for gamma in Theater mode averaged 3.9. Post-calibration, gamma improved substantially, closely track- ing the 2.2 target for most of its range with a high of 2.4 at 90 IRE. UHD/HDR

While it's technically an Ultra HD display, the Hisense Laser TV's color reproduction capability only extends to the Rec. 709 (HDTV) gamut. The set's Gamma 1 setting provided the closest match to HDR's EOTF (Electro-Optical Transfer Function, which is the specified "gamma" for UHD), while its grayscale Delta E averaged out to 4.5 post-calibration. Peak HDR light output in the Calibrated HDR mode measured 130 nits on a 10% white window pattern and remained consistent across a range of window pattern sizes, along with full-screen white.
Picture uniformity was excellent: White full-field test patterns showed only minimal brightness drops between the center and edges of the screen, and there was no visible color shifting. Off-axis uniformity was also excellent. Our suite of video proces- sing tests revealed mostly good performance, with the projector only tripping up on HD and SD 2:2 pulldown patterns, a not uncommon result.—AG