Hisense Laser TV 4K DLP Projector Review Page 2
Once powered up, the projector's fan noise proved relatively low and was easily masked by movie and TV soundtracks. Adding the wireless subwoofer to the setup involved a visit to, confusingly, the Network menu, where a Bluetooth pairing process could be initiated that required pressing a button on the sub. The Audio menu provides Total Sonics, Total Surround, and Total Volume options. I experimented a bit with Total Sonics, which added some clarity to dialogue and increased bass punch, but I ultimately found that I didn't need it with most programs.
To calibrate the TV's picture settings, I used its Theater mode for standard high definition and Calibrated HDR mode for Ultra HD/high dynamic range programs. Although the TV is only capable of displaying images in the Rec. 709 (HDTV) color space, I still selected the Enhanced HDMI 2.0 format option in the Picture menu, which enables passthrough of 4K/60-hertz signals with 10-bit color encoding.
The other adjustments I made were to switch off Motion Enhancement and Overscan (both turned on by default in the Theater picture mode), select the Gamma 1 preset, and turn off Active Contrast. Picture modes with names like Active Contrast on projectors typically engage some form of dynamic contrast adjustment, but on the Laser TV they merely changed picture gamma in a manner that made faces look bright and flat, with absolutely no effect on contrast ratio.
Calibrating the Laser TV's grayscale and color points for SDR/Rec. 709 display proved to be a snap using the adjustments in the White Balance and Color Tuner menus. Postcalibration, the Delta E values for grayscale and color points averaged an impressive 1.2 and 2.3, respectively. Gamma also closely tracked the 2.2 target with the Gamma 1 setting active. After notching down the Laser TV's Light Level adjustment from the default maximum to the 17 setting, contrast ratio measured 1,354:1—not exactly a great native contrast reading, but better than both the Optoma UHD65 4K DLP projector and the Epson LS100 LCD UST projector, two related models that Sound & Vision has recently reviewed. With contrast set to the highest level in Vivid mode, maximum light output was measured at 36.7 foot-lamberts. That's about half the light output that the Epson UST projector managed when I reviewed it, but I never had a sense during my testing that the Laser TV's picture was insufficiently bright.
Adjusting the picture for HDR presented more of a challenge. The projector tracked the HDR's EOTF (the specified "gamma" for UHD) relatively closely, but its grayscale Delta E averaged out to 4.5 post calibration. Peak HDR light output, meanwhile, measured 130 nits on a 10 percent white window pattern (about 38 ft-L), and it remained consistent across a range of window sizes plus fullscreen white. While 130 nits is hardly sufficient to deliver a full-scale HDR experience, that measurement isn't unusual for a typical projector.
HD/SDR Performance
When I watched the Blu-ray Disc version of Passengers on the Laser TV in dark room lighting conditions, the picture displayed excellent color accuracy and good contrast. Skintones looked natural and showed a decent level of variation, and there was also plenty of detail. When I compared the upconverted 4K output of an Oppo UDP-103 Ultra HD Blu-ray player with the same upconverted image on the Hisense, I didn't notice any serious differences: Both pictures for the most part looked solid, detailed, and clean.
Switching to a Blu-ray of the black-and-white "Noir" version of Logan, the most recent entry in the X-Men film series, the Hisense's picture displayed excellent uniformity—the range of gray tones in the image showed little variation over the full expanse of the 100-inch screen, and contrast remained solid even when viewed from a far off-center seat. I did notice a bit of banding noise in streaks of light coming through the ceiling of an abandoned structure in a scene where Logan administers medication to Charles Xavier, but similar artifacts popped up only rarely during the film.
The dynamic visual impact of the Laser TV's 100-inch screen really kicked in when I viewed a Blu-ray of Dunkirk, a movie that was shot using a combination of IMAX and 65mm large-format film stock. Watching the film's opening scene, I saw a wide range of subtle colors in the seaside village where the British soldiers get shot at. When Tommy, the lone army private from his group to escape the barrage, arrives at the shore where the rest of the army is desperately awaiting rescue, the blue and green hues of the ocean came across as vivid, yet completely natural. I did notice some banding noise in the clouds over the ocean, especially in the aerial fight scenes between the British and German planes, but it was mostly limited to scenes that showed a vast expanse of sky. (Generally, banding noise was more pronounced on programs that were originally shot on film.)
Dunkirk also proved to be great demo material for the Hisense's sound system. In a scene where German planes attack the beach, for instance, the detonations as a line of bombs aggressively made their way toward the camera perspective had a powerful bass impact. In another scene where German planes attack a mass of British soldiers lining a pier leading to a rescue ship, the screaming sound of planes descending, and the spray of bullets raining on the pier, was surprisingly immersive for a 2.1 system. Dialogue in this scene and others also sounded consistently clear and unstrained.
UHD/HDR Viewing
When I streamed the BBC nature documentary Planet Earth II in 4K from Netflix, the boost in picture crispness delivered by Ultra HD on the Hisense's screen was easy to appreciate from my 10-foot viewing distance. Watching the Islands episode, there was plenty of detail to be seen in the scaly hides of a pair of dueling Komodo dragons. The streamed 4K image looked solid and mostly noise-free, and it had satisfactory brightness.
Watching Ultra HD versions of the same Blu-ray Discs I had watched earlier, I also noted a boost in picture detail, especially with Dunkirk. The addition of HDR didn't seem to make much of a difference, however. For example, viewing a scene from Passengers where the two premature risers conclude their date by donning spacesuits and floating outside the ship, the blackness of space, and the shadows in the recesses of the ship's exterior, didn't appear any deeper, and I only noted a slight boost in the brightness of highlights. In a nighttime scene from Dunkirk where a torpedo unleashed by a German U-boat hits a British rescue ship, I noted good contrast between the black ocean that the soldiers dive into and the light from fires rippling on the water. Here again, however, it wasn't a dramatic improvement over watching the same sequence minus HDR on regular Blu-ray. The set's inability to display greater-than-Rec. 709 color was yet another factor that contributed to its minimal wow factor with HDR sources.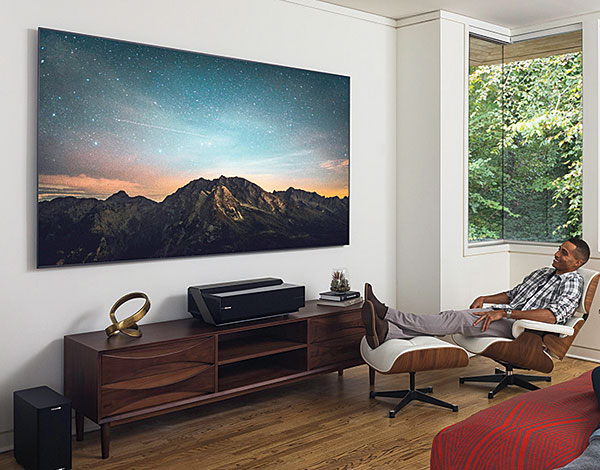 Conclusion
Coming into this review as a movie fan who strongly prefers viewing in a room with little to no ambient light, I'm inclined to be more critical of the Hisense Laser TV's shortcomings than its strengths. But let's look at both. In the strength column, the Laser TV can claim excellent 4K detail and picture uniformity, along with spot-on post-calibration color accuracy. Its picture is bright enough to compete with daylight in a well-lit room, and its contrast ratio is slightly above average when compared with competing solutions. It also offers the smart functionality viewers have come to expect from their TVs, with apps that support 4K streaming and HDR, and forthcoming Amazon Alexa integration. Yet another feature that makes the Hisense projector TV-like out of the box is its built-in Harman Kardon audio system, which is capable of delivering dynamic sound and clear, unstrained dialogue.
Moving to the minus column, though HDR-compatible, the Laser TV delivers only minimal extra visual impact when displaying HDR content, and its color coverage only extends to the Rec. 709 (HDTV) color space. It exhibits occasional banding noise artifacts, and its contrast ratio isn't nearly as impressive as projectors designed for dim home theater viewing environments, as well as pricier UST projectors like Sony's VZ1000ES.
Adding up the plus and minus points, I'd say that for many viewers the Hisense Laser TV would come out on top: It's a very good option for watching in a bright room, and it also performs well when you dim the lights for movie time. The projector's preassembled screen, streaming apps, and built-in audio system also make it a complete out-of-box solution, one that you could easily install yourself. If you're looking for the largest flat-screen TV possible and your budget maxes out at $10,000, you might want to consider a Laser TV instead.