Heroes Season One and Two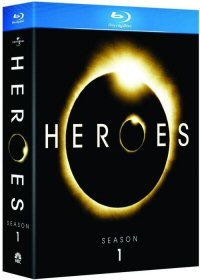 Evolution is the process of change in all forms of life over generations. In
Heroes
, this process manifests itself in a random group of humans who start to develop superhuman powers. Hiro Nakamura (Masi Oka) has the ability to manipulate the spacetime continuum, Claire Bennet (Hayden Panettiere) is unbreakable, and Matt Parkman (Greg Grunberg) can read people's minds. These are just a few of the characters we meet in season one as they battle the evil Sylar (Zachary Quinto), a serial killer with a unique superpower. Peter Petrelli (Milo Ventimiglia) is the only man capable of stopping Sylar's murderous plans as he struggles to control his own superpowers.
Season two picks up four months after the season-one finale. Unfortunately, the sophomore season starts with a whimper, wasting the first six episodes on some new but ill-conceived characters. The concluding five episodes are outstanding and harken back to the first half of season one. Sadly, the WGA (Writers Guild of America) strike cut the season short at only 11 episodes.
Heroes was an instant hit when it debuted in 2006 on NBC, and rightfully so. My first experience came on HD DVD, and I loved it because of the exceptional character development, involving stories, and a truly evil villain, marvelously played by Zachary Quinto. That's not to say it doesn't have flaws. The terrific writing fell off in the latter part of season one and continued into season two. Happily, the end of the second season picks up steam, although the finale seems rushed. Still, I'm eagerly anticipating the third season on NBC.
The VC-1 encode is an admirable effort given the program's TV roots. The CGI work is blatantly obvious, but with a weekly schedule, I'm not too surprised. Colors are rich and vibrant, flesh tones are accurate, and the shadow detail is satisfactory. Compression artifacts and video noise can be an issue, especially in darker scenes, but brightly lit scenes look spectacular.
The HD DVD set featured a Dolby Digital Plus 5.1 soundtrack (1.5Mbps), and Universal has chosen to use DTS-HD Master Audio for its Blu-ray release, not that it makes a huge difference in this dialog-driven show. Dialog is clear and concise, and the front soundstage is nice and wide. The surround channels are relegated to minimal ambience and rarely come to life with any discrete effects.
Season one has a plethora of bonus features on the 5-disc set, although a few of the weaker features from the HD DVD release are missing. Each of the five discs boast its own supplements, which are episode-specific with "U-Control" functionality, including PIP commentaries, "Artwork Presentations," and "Character Connections." BD-Live features allow downloads of exclusive content, although at the time of this writing, they were unavailable. Other standard-definition content includes 50 deleted scenes, the unaired extended-cut pilot, and behind-the-scenes featurettes.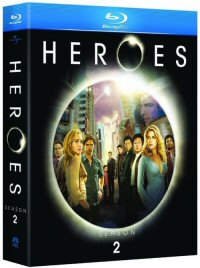 Season two offers many of the same types of supplements with "U-Control" features including PIP commentaries for every episode. One notable change in the supplements is that most are offered in HD (VC-1), with the exception of the deleted scenes and some NBC.com features, which are 480i (MPEG-2). The best of the bunch is the alternate ending and another featurette with Tim Kring, Jeph Loeb, and Jesse Alexander explaining the alternate ending. BD-Live content is available as well, but as with season one, it isn't available until the street date.
Heroes is one of the best shows on network TV with its entertaining and intriguing story, and its debut on Blu-ray is highlighted with a solid audio and video presentation. I enjoyed delving into the supplements and eagerly anticipate the debut of season three. Recommended for fans.
Release Date: August 26, 2008
Season One: 9 out of 10
Season Two: 7 out of 10 Picture: 8 out of 10
Sound: 8 out of 10

Review System
Source
Panasonic DMP-BD30
Display
JVC DLA-RS1 projector
Stewart FireHawk screen (76.5" wide, 16:9)
Electronics
Pioneer Elite SC-09TX THX Ultra 2 AVR
Belkin PF60 power conditioner
Speakers
M&K S-150s (L, C, R)
M&K SS-150s (LS, RS, SBL, SBR)
SVS PC-Ultra subwoofer
Cables
Monoprice HDMI cables (source to pre/pro)
Best Deal analog-audio cables
PureLink HDC Fiber Optic HDMI Cable System (15 meters) from pre/pro to projector